India to Tibet
Tibet holds a very special place amongst the heart of the Indians especially, not only because of the scenic beauty or the Tibetan charm. The holy spots in Tibet are also extremely holy for the Indians and they respect the Tibetan kora regions equally. The special mention however goes to lake Manasarovar and Mount Kailash which find a special mention in Hindu scriptures and mythology. Kailash is said to be the abode of Lord Shiva, the god of strength in India and the water of lake Manasarovar is equated with the potion of eternity.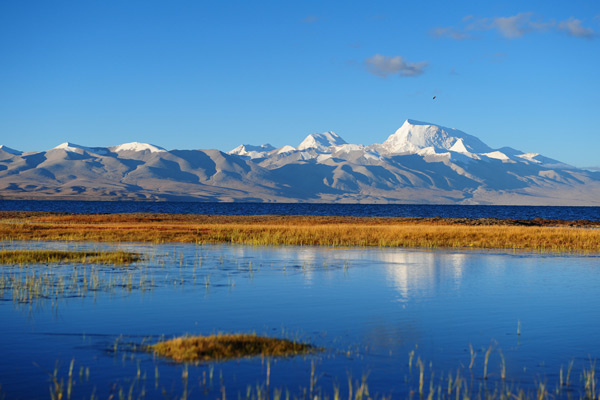 lake Manasarovar
Further India is also known as the most secular country, owing to the fact that Indians are extremely open to all forms of religion. In India, Sikhism, Buddhism, Hinduism and every other form of religion is practiced. Tibet being a place of Buddhism, the Buddhist pilgrims from India also make a frequent travel there. Not only them but there are several Indian pilgrims also making a journey to Tibet for the kora around Mount Kailash and Manasarovar. Further the easy location of Tibet within the same continent, along with its mesmeric charm is the reasons behind the attraction of Indian tourists to the 'roof of the world'.
Visa Requirements
There are usually two types of Visas issued for the Indians wanting to make a journey to Tibet. There is a Tibet Visa also known as Tibet Travel Permit for the ordinary tourists, visiting most of regions of Tibet. These ordinary tourists get their Tibet visa and make tour like every other international traveler. These tourists need to show their passport and Chinese Visa to ultimately acquire the Tibet visa. Our travel consultants will help you how to get your Tibet Visa. And send it to your hotel in China before you heading to Lhasa, Tibet either by Tibet train or flights.
Travel from Nepal to Tibet
While planning your Tibet Nepal India tour, if you decide to enter Tibet from Nepal, a Group Tourist Visa and Tibet Visa are required. The Chinese Embassy in Kathmandu usually issues these Group Tourist Visas. These visas can be issued either on spot through our Kathmandu-based office or Chinese embassy in Kathmandu.
>> Detailed Guiline for getting Tibet Travel Permit from Nepal
Visa for Indian Pilgrims
For the Indian pilgrims also the Tibet Visa is required. However this visa has to be specially attested verified and confirmed by the Foreign Affairs of Tibet Autonomous Region along with the supervision of Department of Public Security of TAR, Tibet Military Region and the Armed Police Tibet Frontier Corps. The power of authorization regarding the Indian pilgrims is given only to two organizations namely- Foreign Affairs of Tibet Autonomous Region which is a government wing along with the Tibet-India Pilgrim Reception Center which is a non-government wing. These organizations ensure a free pilgrimage tour service for the Indian pilgrims like helping with the accommodation, providing yaks and other types of transportations, itineraries and guides.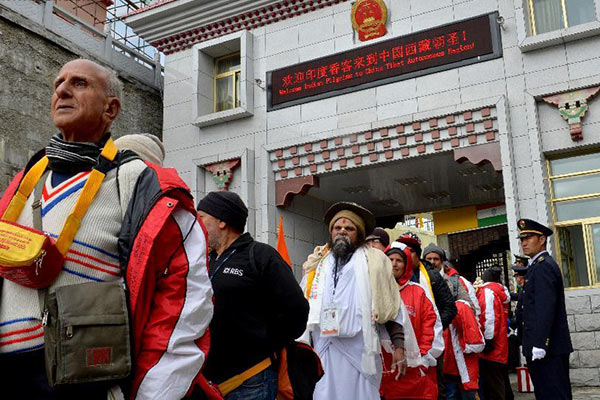 Indian pilgrims travelling to Tibet
It is said that a Tibet pilgrimage tour costs more than Tibet tour without pilgrimage. However the Indian pilgrims can avoid such expense by consulting with the various offices and online sites. But for every type of tourists and travelers, passport, Chinese visa and Tibet travel permit are extremely important.
Get to Lhasa from India by flight
The flight to Lhasa from India departs from Delhi Indira Gandhi Airport and reaches to Lhasa Gonggar Airport. The average flight cost from Delhi to Lhasa is 67,725 rupees or 7,187 CNY. There are many flights available to Lhasa from India, both the connecting and direct flights. It is considered that Tuesday, Wednesday and Saturday provide certain special price format for the flights. There are various online websites that help the tourists by providing a chart of price comparison. It therefore becomes easy to choose the right flight after a detailed survey of all of these websites.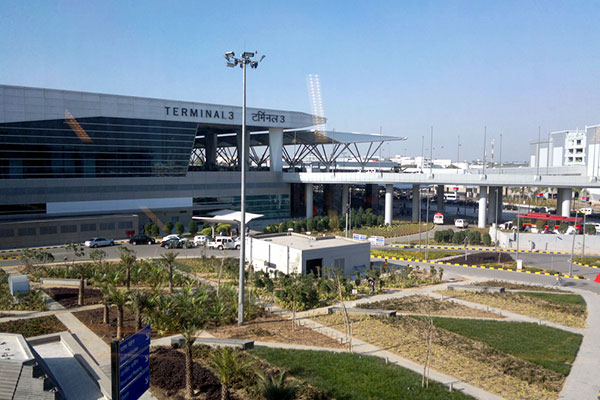 Delhi Indira Gandhi Airport
The direct flight takes about 5 hours and 39 minutes while travelling from Delhi to Lhasa. However the connecting flights take about 24 hours if they have two stops, 19 hours if they have one stop. The time may even exceed 34 hours, depending on the number of stops. The timings of the flights are variable. They mostly depart from Delhi at 11:50 IST. However there are early morning flights which depart from Delhi at 6:50, 7:40 IST. Afternoon flights usually depart at 14:40. The airways giving the Lhasa flight facilities are Jet Airways, China Southern, and China Eastern. The famous places where the flights usually take halts are Kunming and Chengdu.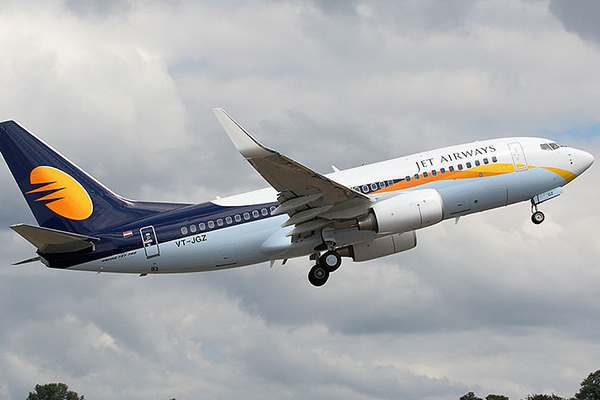 Jet Airways flight to Lhasa
The flights contain some remarkable facilities. There is a power charging facility along with televisions. The food served is fresh and healthy, even though they might cost a little bit more than the city price. For journeys above ten hours, there is a facility of bed. Except for all these luxurious facilities, the security and safety are indeed packed with full observation.
India to Kathmandu, then get to Lhasa from Kathmandu
The most popular way to start a Tibet tour from India is to get to Kathmandu first, and then travel to Tibet from Nepal. In fct, India to Kathmandu is quite an easy and popular journey route. Kathmandu can be reached by two ways-either by flight or by road. There are about seven direct flights from Delhi to Kathmandu. The total time taken to reach Kathmandu via flight is almost one hour and thirty-five minutes. The direct flights are provided by airways like Royal Nepal Airlines, Air India, Jet Airways and IndiGo. The connecting flights, however take a time of 6 hours and 40 minutes.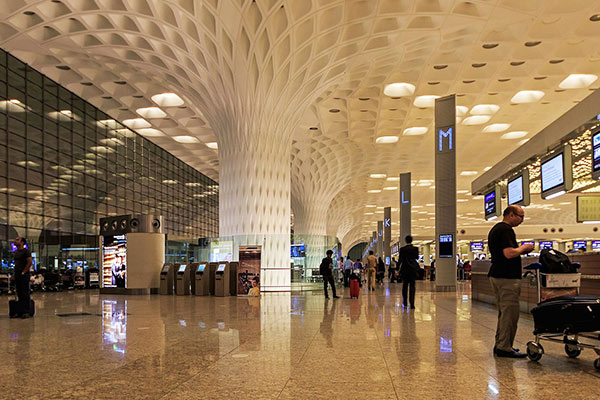 Interior of Chhatrapati Shivaji International Airport (International terminal) in Mumbai, India
Besides Delhi, Kathmandu can be reached from Ahmadabad, Goa, Mumbai, Bengaluru Varanasi, Kolkata and Hyderabad. However there are no direct flights from Kolkata or Hyderabad. The average cost of flights from Delhi to Kathmandu is 6,538 rupees or 693 CNY while that from Mumbai is 10,240 rupees or 1,086 CNY. The flights from Mumbai are direct and the flights are available every day. The frequency of the flights is quite high. The flights are available almost every day. The costs of the journey from other cities can be obtained from a detailed survey of the online tourism websites. The services of the flights are extremely good, providing the passengers with different mocktails and delicacies.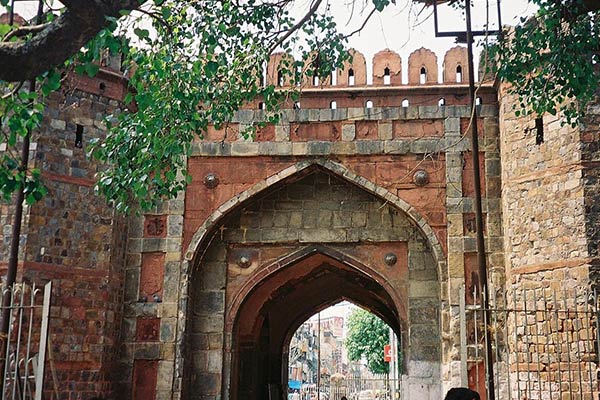 Delhi Gate
The Delhi Transport Corporation has started a special international bus journey to Kathmandu, from November 2014. This is an air-conditioned luxury bus with comfortable seats and even bunk facilities. The bus service takes place from Dr.Ambedkar Stadium Bus Terminal near Delhi Gate. The fare is about 2,300 rupees or 244 CNY. Children below five years are exempted from bus fare.
However the road journey to Kathmandu follows many rules and regulations and abides by them strictly. The baggage at the most might contain twenty nine suitcases or trolleys of a certain length and width. But the luggage is not allowed to contain jewellery or valuable personal documents or items. Neither hazardous materials like acids, match-boxes, poisons or ignitable fluids, explosives or compressed gases are allowed to be taken with them. The time of departure from Delhi is usually 10:00 IST and the arrival at Kathmandu takes place at 9:00, after almost eight to nine days.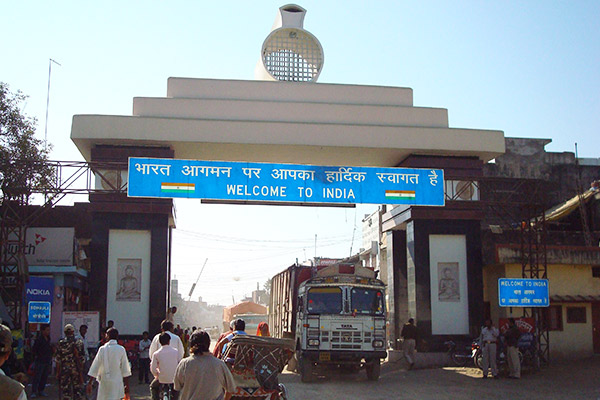 The Indo-Nepal Border at Sanouli
On the way, the bus halts at Firozabad, Faizabad, and Mugling. Again the bus takes a halt at Sanouli (the Indo-Nepal Border) for the customs check. The bus also halts at many different places for food and refreshments. The necessary documents required to avail the bus are quite a few. Both the Indian Nepali tourists have to carry a valid photo identity proof issued and verified by the respective governments. This might include the passport, Voter card and others. The tourists need to carry the required passports and the Chinese and Tibetan visas.
Fly from Kathmandu to Lhasa by Air
Kathmandu to Lhasa can be visited either by road or by flight. Every week there are about ten flights from Kathmandu to Lhasa. The airways flying to Kathmandu are Sichuan Airways, Air China, China Southern and China Eastern. The first flight to Lhasa from Kathmandu departs at about 11:10 by Sichuan Airlines and the last flight departs almost at 12:10 P.M. The average flight cost is about 3,469 CNY. The time taken to cover the journey is about 1hour and 35 minutes.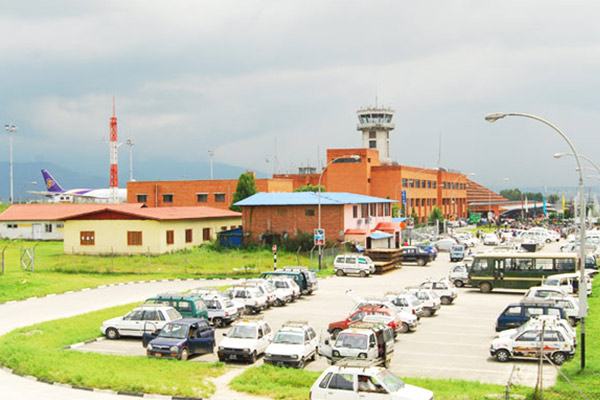 Kathmandu Tribhuvan International Airport
There are more than one flights operating per day, and in each day of the week. It has been found that Tuesdays, Saturdays and Thursdays are the best days to book a flight from Kathmandu as the fare becomes slightly moderate. The average price for a connecting flight is 4318 CNY and the time taken to reach Lhasa is minimum 6 hours and 30 minutes. The most common halt for the connecting flights are Chengdu.
Kathmandu to Lhasa by overland
The distance between Kathmandu and Lhasa is about 1120 kilometers. Therefore many tourists try to cover this distance by an overland trip. Kathmandu provides a beautiful overland journey to Lhasa, which usually is known as Kathmandu to Lhasa bike tour. You can also take a car of own choice if you want. The journey begins at Kathmandu and takes place via Gyirong Port (the new Sino-Nepal Border) to Lhatse, Tingri, Sakya, Shigatse, Gyantse to Lhasa finally. It takes about thirteen to sixteen days for the total journey to get completed.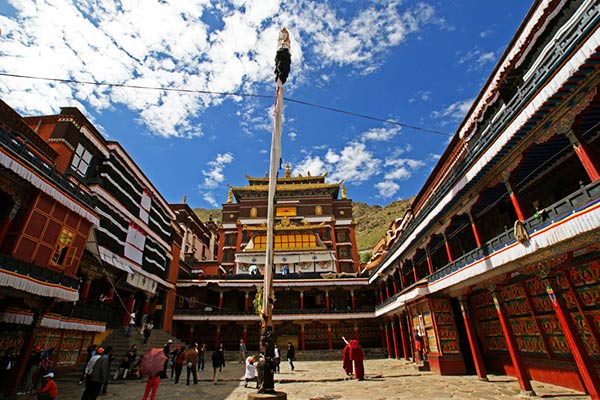 Tashilhunpo Monatery
The altitude change in this journey however is extremely vast. A tourist reaches from an altitude of about 1400m to 3650m. On the way the tourists will be able to witness the famous Tashilhunpo Monatery, Gyanchung monastery, Palkhor monastery and many other authentic Tibetan sites. The highlight of the overland trip from Nepal to Tibet is to witness the mesmerizing beauty of Mt. Everest and instill the charm of Rongbuk monastery, as the route traversed through the Everest Base Camp circuit.
>> See the day by day travel itinerary of our 15 Days Nepal and Tibet Overland Tour from Delhi