Chengdu Railway Station Guide: How to Take the Train to Tibet from Chengdu
Chengdu Railway Station, also known as Chengdu Northern Railway Station, is one of the three major railway stations in Chengdu and the only railway station operating train to Lhasa from Chengdu. It is located on 3rd North Section, Second Ring Road of Jinniu District, to the north of the city center. It is commonly called "North Railway Station" by local people and has been put into operation since 1952. And the opening of Tibet train from Chengdu provides more chances for tourists to enjoy their Tibet tours.
Chengdu – Tibet Train Schedule
The Chengdu-Lhasa train No. Z322 (original T22) departs from Chengdu railway station every other day at 21:37 and arrives at Lhasa Railway station at 09:55 on the third day. There are eight stops for the whole line, covering a total distance of 3070 km. Check the following latest schedule from Chengdu to Lhasa train.
| Train Number (Route) | Departure | Arrival | Duration | Frequency |
| --- | --- | --- | --- | --- |
| Z323 (Chengdu to Lhasa) | 21:37 | 09:55 | 36hr, 18min | Every Other Day |
| Z324 (Lhasa to Chengdu) | 18:40 | 06:26 | 35hr, 36min | Every Other Day |
Please note:
1. The train schedule from Chengdu to Lhasa above is just for reference. When you make early reservation, please contact us for more details.
2. The Chengdu to Lhasa train departs on odd days in Jan, Apr, May, Aug, Nov and Dec, and leaves on even days in the rest months of 2020.
How to Collect Tibet Train Ticket at Chengdu Railway Station
The ticket office of Chengdu Railway Station is at the right side of the square. Passengers who bought tickets online with Chinese ID card can pick up the tickets from the automatic ticket machine. Foreign tourists who reserved the tickets online with passport number need to go to a ticket window and show the booking number, passport, as well as Tibet Travel Permit to the staff and then get the tickets. It should be noted that the ticket office building is located on the eastern side of the station square, being independent of the main station building.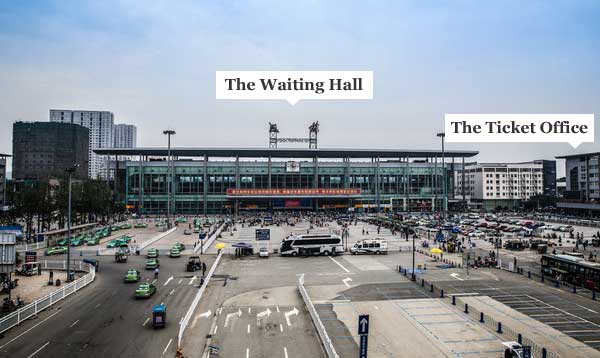 Check the position of the Ticket Office and the Waiting Hall of Chengdu Railway Station.
As a better option, we can help you to book your Tibet train ticket and send it to you, to save your time from the booking procedure and queuing up. Also, we offer the one-package service of Tibet Permit application and tour arrangement, ensuring you a comfortable and carefree train journey to Tibet. Please feel free to contact us for more details.
How to Board the Tibet Train at Chengdu Railway Station
The waiting hall is just in front of the station square. Tourists are required to pass the security check first at the entrance. For tourists who are about to board the Tibet train, the station applies a set of relatively independent security check system. Special waiting room is also provided. It is strongly suggested to arrive at the railway station at least one hour early before the train departure time, since huge passenger flow will take up much of the time while going through security check and ticket check.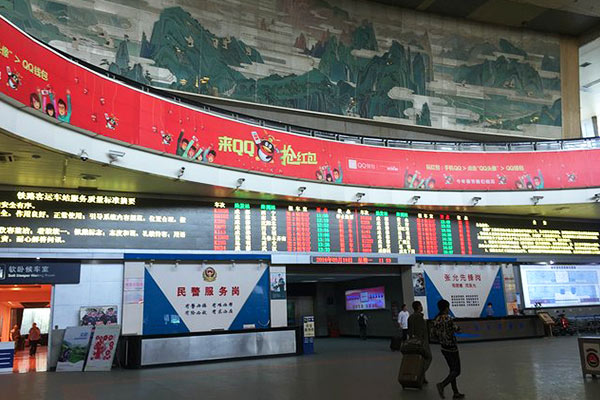 A large LED screen can be seen in the waiting hall of Chengdu Railway Station.
The information of each train with the arrival station, arrival time and waiting room number is listed on the LED screen in the waiting hall. You need to find the right waiting room and stay there waiting to board the train. The train number listed on the ticket is important for you to find the right waiting room and platform for your train. If you feel confused, you can turn to work staff wearing the red hats for private service. They will help you to go through all the boarding procedures in a more relaxed way, and certain fees will be charged.
How to Get to Chengdu Railway Station
1. From Chengdu Shuangliu International Airport to Chengdu Railway Station
By Shuttle Bus
The daily Airport Shuttle bus Line 2 from the airport to the railway station from 6:30 to 20:00. It takes about 40 minutes with 3 stops en route. The ticket price is 10 RMB. There are two shuttle bus stations. One is at the outside of Gate 2, Terminal 1, and the other is outside the Gate 4, Terminal 2.
By Metro Line
There are two subway lines that can take tourists to the railway station, Metro Line 1 and Metro Line 7. Tourists need to first take the Metro Line 10 at Terminal 1 of Shuangliu International Airport Station, and transfer to either of the two lines. One choice is to take the Metro Line 10, and transfer to Metro Line 7 at Taipingyuan Station, and then get to the Chengdu Railway Station after 12 stops.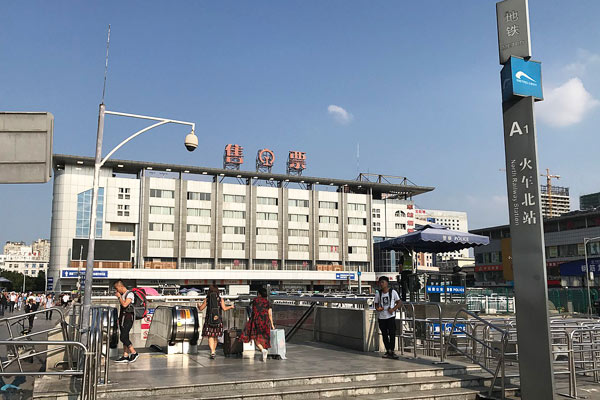 The exit of Metro Line 1 is right in front of the Ticket Office of Chengdu Railway Station.
The other choice is to first take the Metro Line 10 and transfer to Metro Line 3 at Taipingyuan Station, then again transfer to Metro Line 1 at Sichuan Gymnasium Station, and finally reach the railway station. This route needs 3 transfers and covers 15 stops in total. Both subways routes start from Terminal 1 of Shuangliu International Airport Station of Metro Line 10. It takes about 1 hour to get to the railway station from the airport, and the cost is 6 CNY per person.
By Taxi
Getting to the railway station from Chengdu airport by taxi will cost about 70-80 RMB and 50 - 70 minutes without regard to traffic jam.
2. From Downtown City to Chengdu Railway Station
Chengdu Railway station is only about 5 km north from Tianfu Square, the city center, so it is easy accessed from downtown Chengdu by both buses and taxis. Since the huge transfer and the construction of the new subway stations, there may be traffic jam, so leave enough for you to reach the train station in time.
From Chunxi Road
The Chunxi Road pedestrian street is in the downtown center, about 6 km from Chengdu Railway Station. The best choice is to take the subway for this short journey. You can first take Metro Line 2 at Chunxi Road Station and then transfer to Metro Line 1 at Tianfu Square Station. It only takes 30 minutes and 3 CNY per person, with 5 stops in total.
From Temple of Marquis
It is about 13 km from Temple of Marquis to the railway station. Tourists can take Bus No. 57 to directly get to the station. It takes about 45 minutes and costs 2 CNY for each person. And the Jinli Ancient Street is just next to the Temple of Marquis, allowing tourists to follow the same route to the railway station.
From Broad and Narrow Alley
To get to the railway station from the Broad and Narrow Alley, one can choose to take Metro Line 4 and transfer to Metro Line 1 at Luomashi Station. It costs 3 CNY for 4 stops and takes only half an hour to arrive at the destination.
From Chengdu Giant Panda Breeding Base
The Giant Panda Breeding Base is on the city outskirts, but also located in the northern region of Chengdu as the railway station. Although only 11 km between two places, there is no direct bus or subway for transfer. It is suggested to take a taxi, which usually costs 30-50 CNY, or even much higher due to traffic jam or during the peak season.
Alternative Ways to Take Tibet Train from Chengdu Railway Station
Considering that the train from Chengdu to Lhasa departs every other day, tourists may find there is no train in service on their scheduled departure day to Tibet. Or the limited train tickets just have been sold out. In this case, it is recommended to transfer to other neighboring cities from Chengdu, and then take the Tibet train to Lhasa.
1. Chengdu – Chongqing – Train to Tibet
Chengdu and Chongqing are quite close to each other, on both geography and political aspects. Thus the transportation between the two cities are extremely convenient. There are plenty of daily trains running from Chengdu to Chongqing North Railway Station. The high-speed trains (G trains) and bullet trains (D trains) can take you from Chengdu to Chongqing in about 2 hours. It is a wise decision to first get to Chongqing from Chengdu and then take the Chongqing to Lhasa train, if you miss the train from Chengdu to Lhasa.
2.Chengdu – Xian – Train to Tibet
Thanks to the opening of Xian-Chengdu high-speed railway in December, 2017, tourists now can get easy access to Xi'an city from Chengdu, with huge convenience. The train running time is greatly cut down to 4 hours from the original 11 hours. And there are dozens of G trains and D trains provided every day, departing from early morning to late afternoon. Therefore, you can take it as your plan B to take the high-speed train from Chengdu to Xian and continue moving to Tibet via the Xian to Lhasa train.
3.Chengdu – Xining – Train to Tibet
As the starting point of Qinghai-Tibet Railway, Xining is the perfect city for tourists to enjoy the whole rail route of the noted railway, with the best breathtaking scenery. Currently, there are four daily trains running to Xining Railway Station from Chengdu. It takes about 15 hours on the way.
Recommended Tibet Train Tours from Chengdu