What are the Most Recommended Bike Trails in Tibet
Across its massive land, Tibet offers various bike trails that can lead one to discover different places and landscapes of the region. For a lifetime biking experience in Tibet, it is necessary to make clear which bike route is your favorite, or works best for you. Here we list the most recommended Tibet bike trails as follows. Read to get inspired for your biking journey in Tibet.
Lhasa to Ganden Monastery Route – Short & Easy Cycling Experience
Difficulty level: ★★★
Route mileage: 55 kilometers one-way (10 km of winding mountain road)
Biking time: 3 days
The area around Lhasa has beautiful scenery, as well as some famous temples and cultural relics. For ordinary tourists with limited time or cycling lovers with average stamina, it is a good choice to ride a tour around from Lhasa. Among the many bike routes around Lhasa, one of the most popular is the Lhasa-Ganden Monastery route.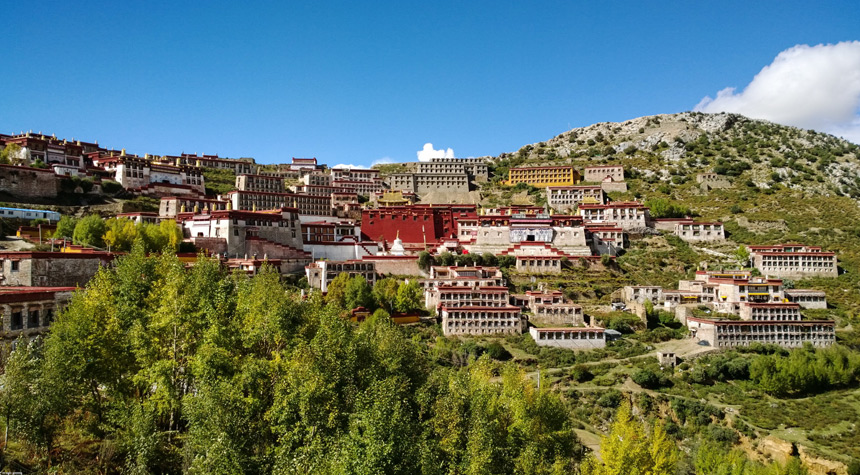 Ganden Monastery is not far away from Lhasa city.
It's about 55 kilometers from Lhasa city to Ganden Monastery, including nearly 10 kilometers of mountain road. Ganden Monastery is located on the south bank of the Lhasa River at an altitude of 3,800 meters above sea level on Wangbo Ri Mountain.
The route mainly follows the National Highway 318. Although it is a small section of the famous G318, the scenery along the route from Lhasa to Ganden is equally stunning. Riders will pass by the golden ponds, local Tibetan villages, farmlands along the way. And the best time to ride the route is spring and autumn, when the riding can make one joyful.
Recommended bike tour itinerary: 6 Days Tibet Bike Tour between Lhasa and Ganden Monastery
Lhasa to Namtso Lake Route – Breathtaking Nature Scenery and Pilgrimage Ride
Difficulty level: ★★★★
Route mileage: 230 kilometers one-way
Biking time: 4 days
Namtso is one of the three sacred lakes in Tibet. Known as the "heavenly lake", the lake is crystal clear and transparent, with sky-blue lake surface. Many Tibetan Buddhism believers from far away head to do kora around the lake, in order to get blessings. The massive and endless grassland of the Namtso, dotted with cattle's and sheep, is also a highlight for tourists to enjoy.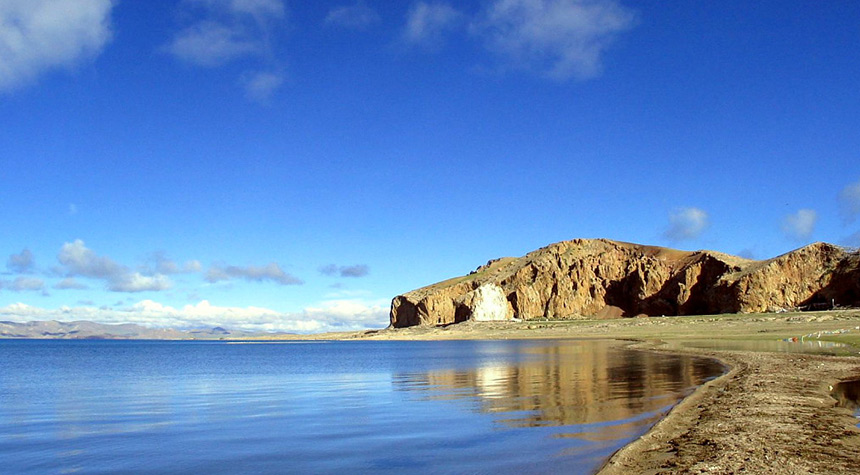 Namtso Lake is in the northern part of Lhasa.
In the northern part of Tibet, Namtso is located about 230 km away from Lhasa city, 60 km from Damxung county. Riders usually need to first bike from Lhasa to Damxung, which usually takes one day, and then continue towards Namtso for the second day. Despite of the high altitude, the trail follows tarred road. Only for the section from Damxung to Namtso, there are gravel roads, which may meet collapse during rainy season.
This bike tour from Lhasa to Namtso will let you pass through Nyechen Thanglha mountain and Yangpachen hot spring site. You can see the magnificent snowy mountains, hitting an altitude of 4718 meters, and experience both beauty and challenge. And on the way back, you can also enjoy a hot spring bath at an altitude of 4,200 meters, under the snowy mountains, a feeling you'll surely never forget!
Recommended bike tour itinerary: 8 Days Classic Lhasa to Namtso Lake Bike Tour
Lhasa to Everest Base Camp – Mountain Biking Adventure to World's Summit
Difficulty level: ★★★★★
Route mileage: 1450 kilometers one-way
Biking time: 10 days
The route from Lhasa to Everest Base Camp is the most popular route in Tibet among adventurous biking lovers. Not only because one can get close to the world's summit – Mount Everest after a challenging and meaningful long-distance ride, but also the route can bring one to enjoy the most highlighted attractions in Tibet all the way.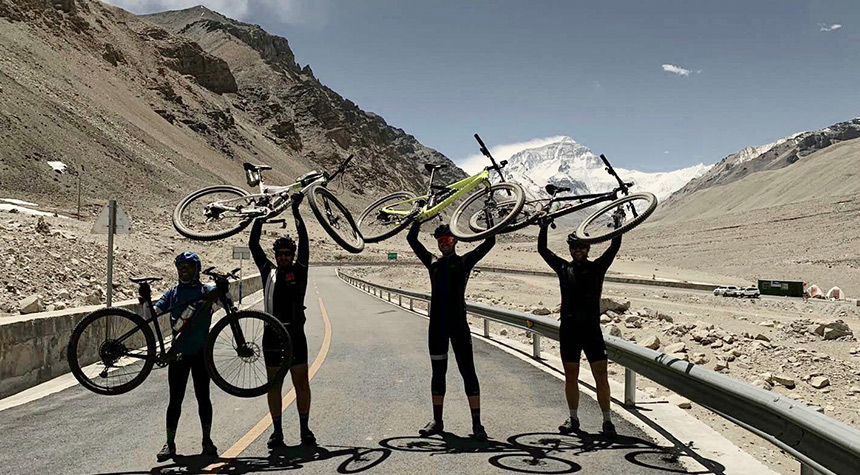 Bike from Lhasa to Everest Base Camp
The bike trail follows the classic overland tour from Lhasa to EBC. The ride starts from Lhasa along the 318 National Highway, cross Gyantse, Shigatse, Lhatse along the way westwards, and then turn to Everest Road in Tingri County until reach Everest Base Camp. It will take about 10 days to ride for a one-way trip, but you can visit famous sites like Korala Glacier, Yamdrok Lake, Pelkhor Monastery, Tashilhunpo Monastery, Gawula Pass etc.
Now, the road from Lhasa to Everest base camp has been asphalted through the route, the road surface is smooth and the road conditions are better. Only a short part to the camp is gravel road. It is strongly recommended to first stay a couple of days in Lhasa before you start riding to EBC, to get fully adapted to the high elevation and well-prepared for the big challenge.
Recommended bike tour itinerary: 17 Days Lhasa to Everest Base Camp Bike Tour cross Tibet
Lhasa to Kathmandu – Most Popular Cycling Route from Tibet to Nepal
Difficulty level: ★★★★★
Route mileage: 1320 kilometers one-way
Biking time: 14 days
This is one of the most classic cycling routes in Tibet. It takes about 14 days to complete this 1000km ride, which will take you cross through the Himalayas, see the majestic northern foothills of Mount Everest, and visit two of Asia' most desirable cities, Lhasa and Kathmandu.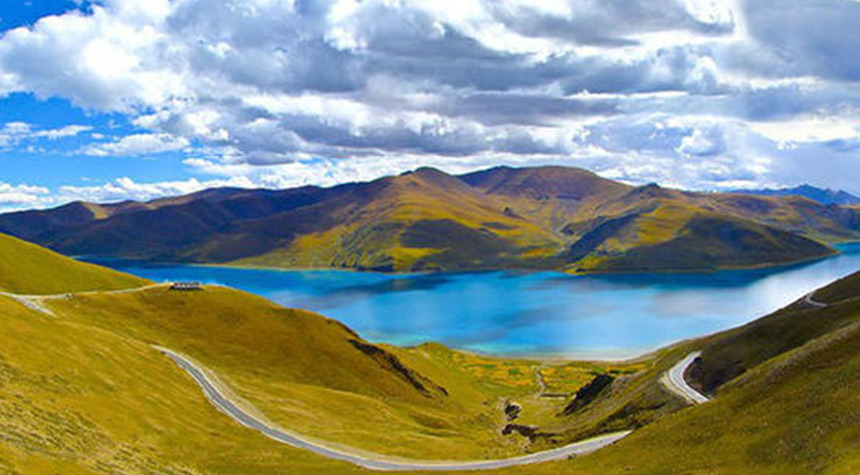 Yamdrok Lake on Route from Lhasa to Kathmandu
The bike trail follows the famous China-Nepal Friendship Highway, which is 943 kilometers long and the only international direct highway in Tibet at present. The route includes 829 kilometers in Tibet, and is also part of the National Highway 318 in China.
From Lhasa, the road pass Gyantse via Yamdrok Lake, move to Shigatse and Lhatse, and then to Shegar, where you can turn to Rongbuk Valley for a ride to Everest Base Camp, and then ride back to Tingri, and Gyirong, the Nepal border. After enter Nepal, you will ride about another 130 km to reach Kathmandu.
The route is very challenging as it crosses the Himalayas and winds through the mountains. Along the route, you will cross 6 mountain passe with an average altitude of 5000 meters. But the road is almost asphalted, being broad and flat. You will witness a combination of the various landscapes in Tibet, from turquoise lakes to rolling snow-capped mountains, from lush forest to massive prairie, along with sacred monasteries and temples, all making a lifetime epic journey.
Recommended bike tour itinerary: 18 Days Lhasa to Kathmandu Bike Tour
Chengdu to Lhasa – Most Challenging Bike Route to Tibet
Difficulty level: ★★★★★★
Route mileage: 2142 kilometers one-way
Biking time: 23 days
Riding from Chengdu to Lhasa follows the famous Sichuan-Tibet Highway, a part of the 318 National Road. The route is also called 318 Sichuan-Tibet line, expanding for 2,142 kilometers. It is known as "China's most beautiful landscape road", presenting plains, mountains, canyons, rivers, grasslands, glaciers, Tibetan style houses, forests, and other very different scenes, all being so beautiful and near at hand.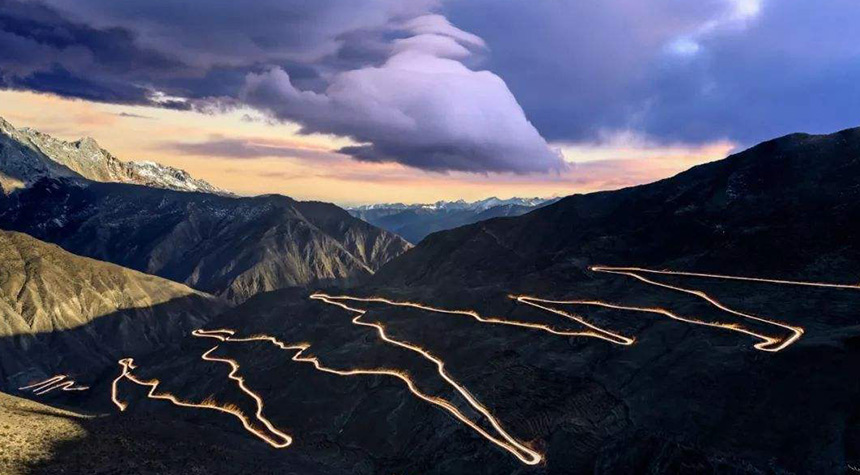 Sichuan-Tibet Highway
The road is geologically diverse, with an elevation drop of over 4500 meters. On the way, you will pass a series of distinctive plateau landscape and scenery spots, including Xinduqiao town (the recognized photographic paradise), Maoya Grassland, Haizi Mountain, Yela Mountain, Ranwu Lake, Lulang Forest etc. It will be a great challenge of the body and mind, but it is a lifetime honor to overcome the difficulties among the lofty mountains.
Recommended bike tour itinerary: 23 Days Cycling Tour from Chengdu to Lhasa via Sichuan-Tibet Highway
Insider Tips for Biking in Tibet
1. Bicycle preparation. Mountain bike is preferable, since on some sections of the bike trails the road conditions are very poor, and a good bike will certainly provide relatively better protection. Helmet and gloves are also required for cycling.
2. Prepare mentally and physically. Do some pre-practice and prepare a good body. It is necessary to have a few experiences of 3-5-day long distance rides.
3. Contact a trustworthy local tour agency. For international travelers to Tibet, biking in Tibet need to be realized by joining a biking tour that is organized by local travel agency. And a reliable agency can help you go smoothly with your biking journey.
As the leading tour operator in Tibet, we have provided professional travel services to a large number of riding tourists. We provide kinds of riding equipment, from motorcycle to bike, and ensure the Tibet Travel Permit, food supply, vehicle maintenance, accommodation arrangement, and many more that matters your bike trip.
Conclusion
No matter which bike route you choose to tour around the mysterious and beautiful land of Tibet, you will surely gain more than what you have supposed. Besides the unique landscape on the plateau, you have more chances to get close to the life and culture of local Tibetans. Make sure to do good preparation before your cycling in Tibet, and contacting a local agency to arrange your bike tour can make things go easier.