Route Map of Beijing Xining Train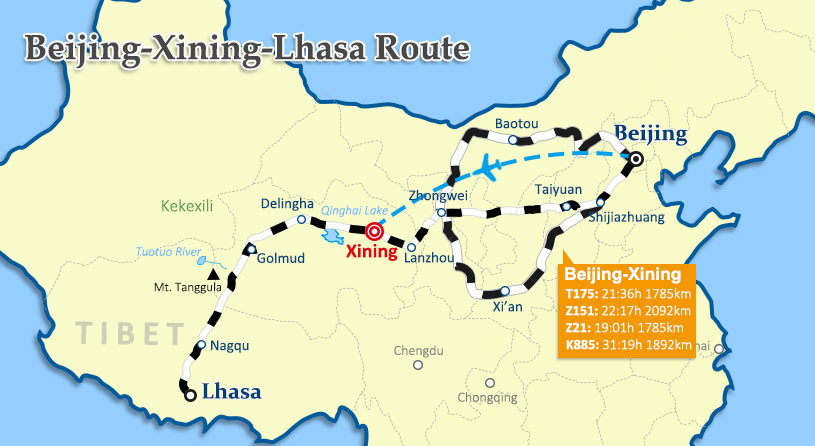 Traveling to Tibet from Beijing is a long and arduous trip, which takes around 41 hours. And while the train does go from Beijing direct to Lhasa, it is always very popular, and can often be fully booked well in advance during the peak seasons. One option for travelers is to take a normal flight or a train from Beijing to Xining, in Qinghai Province, where you can board the train bound for Lhasa from the original start point of the Qinghai-Tibet railway. With more trains and schedules in Xining (check all Xining to Lhasa trains here), you are almost certain to get a ticket for your expected date of travel. So, here on this page, we'll give you the most detailed information about how to get to Xining from Beijing.
Latest Timebale and Schedule of Beijing Xining Train
| Train No. | From / To | Dep. / Arr. | Duration | Distance (km) | Frequency | Hard Sleeper Ticket | Soft Sleeper Ticket |
| --- | --- | --- | --- | --- | --- | --- | --- |
| T175 | Beijing West/Xining | 13:05/10:41 | 21:36 | 1,785 | Daily | CNY353 | CNY556 |
| Z151 | Beijing West/Xining | 16:03/14:20 | 22:17 | 2,092 | Daily | CNY399 | CNY629 |
| Z21 | Beijing West/Xining | 20:00/15:01 | 19:01 | 1,785 | Daily | CNY353 | CNY556 |
| K885 | Beijing/Xining | 23:41/07:17 | 31:36 | 1,892 | Daily | CNY363 | CNY572 |
Please Note:
The timetable and schedule is just for reference. When you make early reservation, please contact us for more details.
Book the Train Now
About the Life on board
Cabins on Tibet Trains
There are two kinds of cabins on board where you can sleep overnight during your train journey to Tibet. The first class cabin on all trains to Tibet is the soft sleeper cabin, with 4 beds in one compartment. The second-class cabin onboard is the hard-sleeper with 6 beds in one compartment.
Facilities onboard
On each train to Tibet, there is one dining car offering food and drinks. At the end of each coach, there are toilets and washing basins. Spoiled water is offered 24 hours a day, so you can bring some instant noodles, coffee and tea with you.
Oxygen Supply onboard
For travelers who are planning the train trips to Tibet, the altitude sickness is always an important issue for considering. In fact, there are two kinds of oxygen supply systems onboard, which can relatively reduce the effect of high altitude. So there is no need to worry too much about suffering from altitude sickness onboard.
Most Recommended Beijing Xining Tibet Tour
Get travel ideas from our popular Beijing Tibet Tours by train. Whether you choose a classic trip to Lhasa, or a lifetime camping at the Everest Base Camp, or the holy kora around Mount Kailash will exprience unmatched tour. Today, coming and starting your own Tibet tour, you will lose a chance to regret.
>> Check more Tibet Train Tour Packages from Beijing
Frequent Asked Questions about Beijing Xining Train Tour
Why Take Tibet Train from Beijing to Xining?
Beijing has three major railway stations, Beijing Station being the main one in Dongcheng District. The others are Beijing South and Beijing West, both in Fengtai District. The trains for Xining leave from both Beijing and Beijing West stations every day. The trip takes around 22 hours, and covers almost 2,000 kilometers across seven different provinces.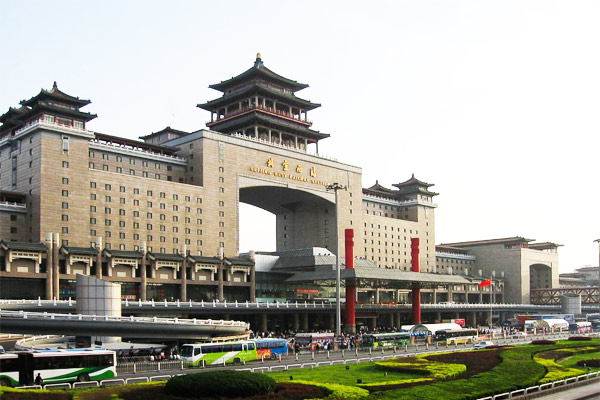 Beijing West Station
All trains have hard and soft sleeper cabins, as well as normal seats. Hard sleeper cabins sleep six passengers in three-tiered berths, and are open to the corridor, while the soft sleepers - which are a little more expensive - only have four berths, and include a lockable door.
You can book tickets in advance up to 30 days before the date of travel, and it is in your best interests to do so to ensure you are not delayed in your trip. During the Chinese national holidays - such as China National Day and the Chinese Spring Festival, etc - advance booking periods may be extended to 60 days.
It'll save you a lot by contacting one of our seasoned travel consultants to book the train ticket from Beijing to Xining. On leaving Beijing, the train stops at several stations en route, but only for a few minute before moving on.
How to Avoid High Ticket Demand?
If you do not like to spend so much time traveling across China, you can take a flight from Beijing Capital Airport to Xining Caojiabao Airport. It is a 690 km trip, as the crow flies, from Beijing to Xining, and the flights are around 90 minutes.
The full price for a regular flight is around ¥695, plus ¥50 for the airport construction fee and ¥30 for the bunker surcharge. Several airline run flights from Beijing to Xining, including Air China, Shandong Airlines, Shenzen Airlines, China Eastern Airlines, China Southern Airlines, And Hainan Airlines.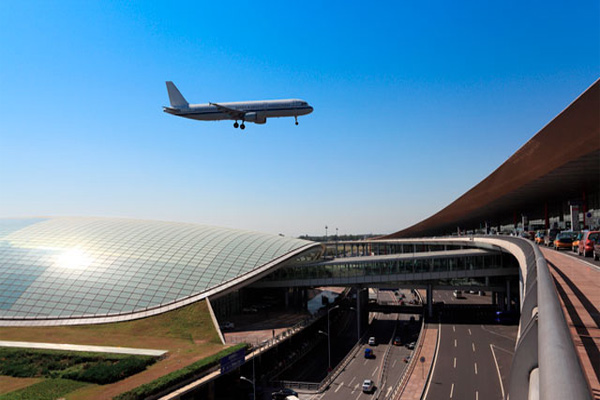 Plane departing over Beijing Capital Airport
The earliest flights to leave each day depart at 6:35am, while the last flight departs at 9:20pm. The airport is situated in Shunyi District, 32km northeast of Beijing city center. You can get there from the city by bus, which costs just ¥16, or by train using the Beijing subway system. The Airport Express Line, which runs from the city to Terminal 2 then terminal 3, takes around 20 minutes at a cost of just ¥25. Subway trains to the airport only run from 6:35am-11:10pm for Terminal 2 and 6:20am-10:50pm for Terminal 3.
It should be noted that the bus service only accepts paper tickets on airport routes, which can be bought at the bus terminal in the city center, and at many of the stops en route.
Let's Start Your Hassle-free Tibet Train Tour with Us!
From handling and delivery of your Tibet Travel Permit to sorting out the details like itineraries, hotels and booking the Tibet train tickets and flight tickets, we care deeply about your ideas and work 24/7 to ensure you a worry-free and pleasant travel.
Enquire Now
Contact Us for Your Dream Tour Now
Your are enquiring for
Beijing to Xining Train
Price from
Price upon Request