Beijing to Xining Train Book
Traveling to Tibet from Beijing is a long and arduous trip, which takes around 41 hours. And while the train does go from Beijing direct to Lhasa, it is always very popular, and can often be fully booked well in advance during the peak seasons. One option for travelers is to take a normal flight or a train from Beijing to Xining, in Qinghai Province, where you can board the train bound for Lhasa from the original start point of the Qinghai-Tibet railway. With more trains and schedules in Xining (check all Xining to Lhasa trains here), you are almost certain to get a ticket for your expected date of travel. So, here on this page, we'll give you the most detailed information about how to get to Xining from Beijing.
Beijing to Xining Train Ticket Online Booking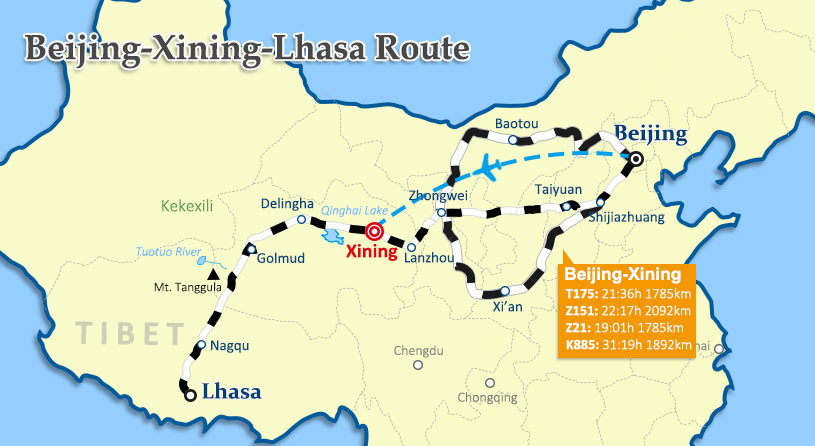 Beijing Xining Train Ticket Price & Online Booking
Train No.
From / To
Dep. / Arr.
Duration
Distance (km)
Frequency
Hard Sleeper Ticket
Soft Sleeper Ticket
T175
Beijing West/Xining
13:05/10:41
21:36
1,785
Daily
CNY353
CNY556
Z151
Beijing West/Xining
16:03/14:20
22:17
2,092
Daily
CNY399
CNY629
Z21
Beijing West/Xining
20:00/15:01
19:01
1,785
Daily
CNY353
CNY556
K885
Beijing/Xining
23:41/07:00
31:19
1,892
Daily
CNY363
CNY572
Book the Train Now
Note:
1. The ticket prices above are the net price. Since the demand of Beijing Xining train tickets always far exceeds the supply in peak season, tourists have to pay more than the net price to buy tickets. The actual price is subject to the market fluctuation.
2. Beijing Xining Train (K885) is the longest journey costing a total of almost 32 hours as it is not a high-speed train.
3. A small service fee will be charged for Ticket-Only service. No service charge on booking train tickets if you also book a Tibet tour package with us.
4. Your submitted reservation is not an order but just an inquiry. The reservation need to be confirmed by Chinatibettrain.Com. An early reservation is recommended for the limited supply of Tibet train tickets.
Most Recommended Beijing Tibet Train Tours
Beijing to Xining by Train
Beijing has three major railway stations, Beijing Station being the main one in Dongcheng District. The others are Beijing South and Beijing West, both in Fengtai District. The trains for Xining leave from both Beijing and Beijing West stations every day. The trip takes around 22 hours, and covers almost 2,000 kilometers across seven different provinces.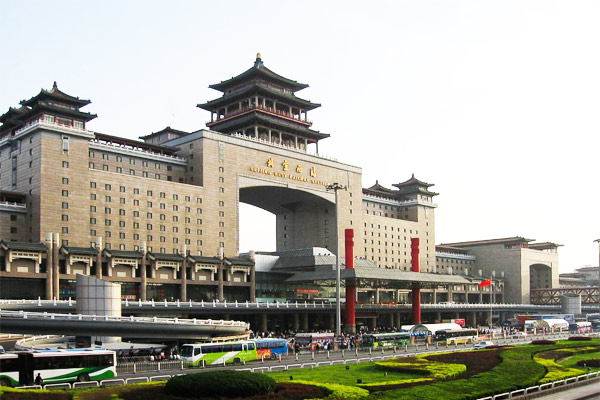 Beijing West Station
All trains have hard and soft sleeper cabins, as well as normal seats. Hard sleeper cabins sleep six passengers in three-tiered berths, and are open to the corridor, while the soft sleepers - which are a little more expensive - only have four berths, and include a lockable door.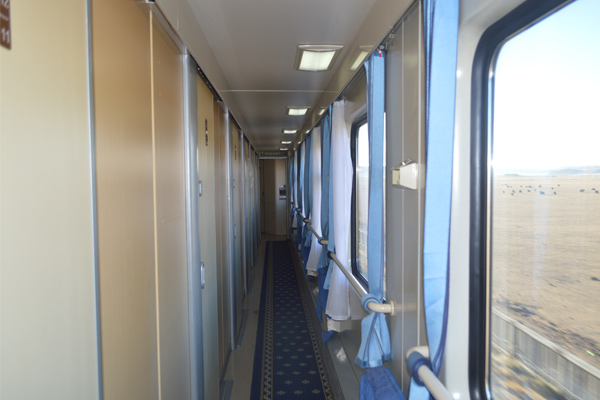 Soft sleeper cabin on Beijing-Xining train
You can book tickets in advance up to 30 days before the date of travel, and it is in your best interests to do so to ensure you are not delayed in your trip. During the Chinese national holidays - such as China National Day and the Chinese Spring Festival, etc - advance booking periods may be extended to 60 days.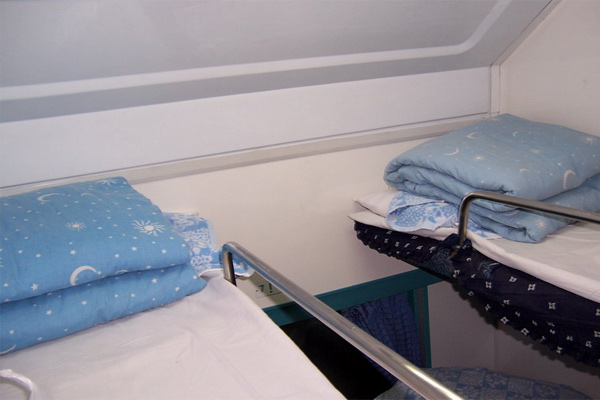 Hard seelper on Beijing-Xining train
It'll save you a lot by contacting one of our seasoned travel consultants to book the train ticket from Beijing to Xining. On leaving Beijing, the train stops at several stations en route, but only for a few minute before moving on.
Beijing to Xining by Flight
If you do not like to spend so much time traveling across China, you can take a flight from Beijing Capital Airport to Xining Caojiabao Airport. It is a 690 km trip, as the crow flies, from Beijing to Xining, and the flights are around 90 minutes.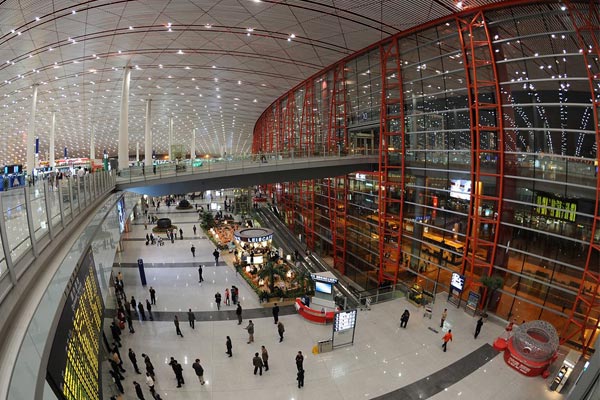 Beijing Capital Airport
The full price for a regular flight is around ¥695, plus ¥50 for the airport construction fee and ¥30 for the bunker surcharge. Several airline run flights from Beijing to Xining, including Air China, Shandong Airlines, Shenzen Airlines, China Eastern Airlines, China Southern Airlines, And Hainan Airlines.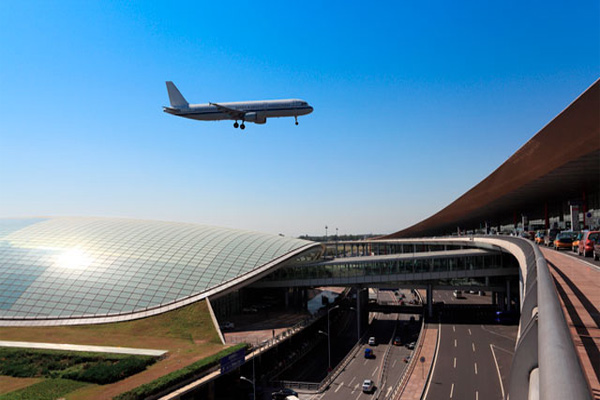 Plane departing over Beijing Capital Airport
The earliest flights to leave each day depart at 6:35am, while the last flight departs at 9:20pm. The airport is situated in Shunyi District, 32km northeast of Beijing city center. You can get there from the city by bus, which costs just ¥16, or by train using the Beijing subway system. The Airport Express Line, which runs from the city to Terminal 2 then terminal 3, takes around 20 minutes at a cost of just ¥25. Subway trains to the airport only run from 6:35am-11:10pm for Terminal 2 and 6:20am-10:50pm for Terminal 3.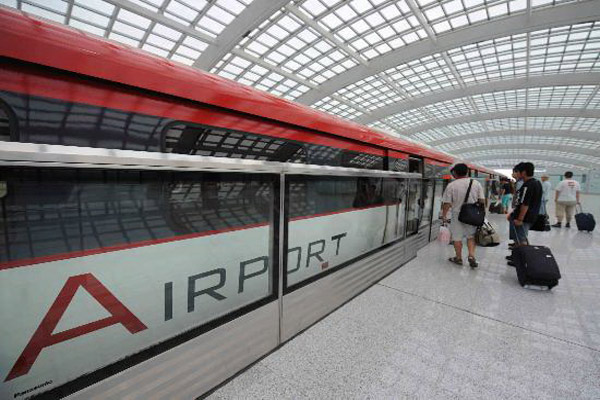 Beijing airport subway
It should be noted that the bus service only accepts paper tickets on airport routes, which can be bought at the bus terminal in the city center, and at many of the stops en route.
Just tell us your travel plan, and we'll take care of the rest.
Qinghai-Tibet Railway (Xining to Lhasa Train)
Xining is the start of the Qinghai-Tibet Railway, and the first railway to connect China to Tibet. The capital of Qinghai Province of China, Xining sits at an elevation of 2,275 meters, and is a great place to stop for a day or so while you acclimatize to the higher altitude. While a mere 2,275 meters may not sound like much, it is halfway up to the high-altitude plateau which Tibet sits on. Xining is the most popular departure point for Tibet trains, and the journey from here on is filled with wondrous sights and amazing feats of engineering. The railway line was built in, and covers a distance of 1972km from Xining to Lhasa.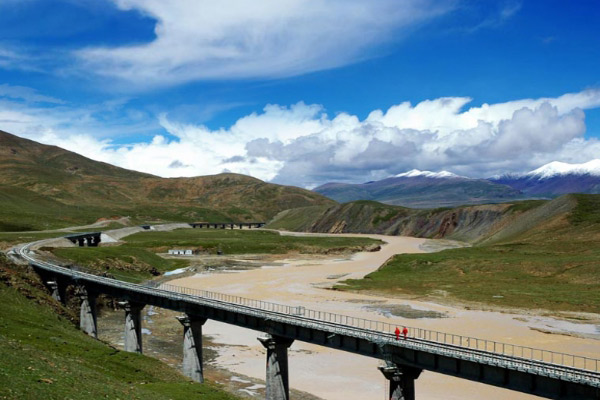 Qinghai-Tibet Railway
Tickets for the trip are reasonably priced, with Hard Seats costing ¥224, Hard Sleepers are ¥495, and Soft Sleepers for just ¥781. The train stops at Delingha, Golmud, Amdo, Nagchu, and Damxung, before reaching Lhasa 22 hours later. (Check for the details about Xining to Lhasa train tickets and schedules)
The Qinghai-Tibet Railway traverses a major part of the plateau, and is the holder of many "world records", such as having the highest tunnel through permafrost, the highest railroad pass, and the highest railway station. Over 900km of the track runs over permafrost at an elevation of over 4,000 meters, making it the highest railway in the world, hence the name, "Sky Train".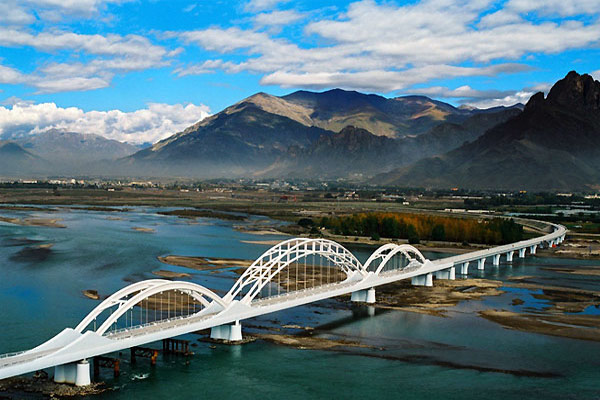 Scenery along the Qinghai Tibet Railway
The train from Xining, like all the other trains to Tibet, is fully air-conditioned, to keep the temperature and oxygen levels constant, making your trip as comfortable as possible. Facilities on the train are more than adequate, and could be described as 3-star, and all trains have an excellent dining car that serves freshly cooked Chinese and Tibetan food.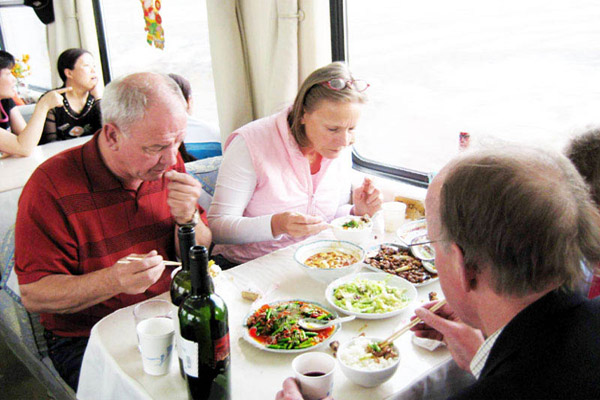 Tibet Train meal
If you do not want to eat in the dining car, the staff will bring a trolley around each mealtime, with hot food in styrofoam boxes, as well as selling snacks, noodles and drinks from the cart. Box meals cost around ¥18, while eating in the dining car can be a little more expensive. And hot water is always available from the staff if you are bringing your own noodles or other snacks, or want to make tea or coffee.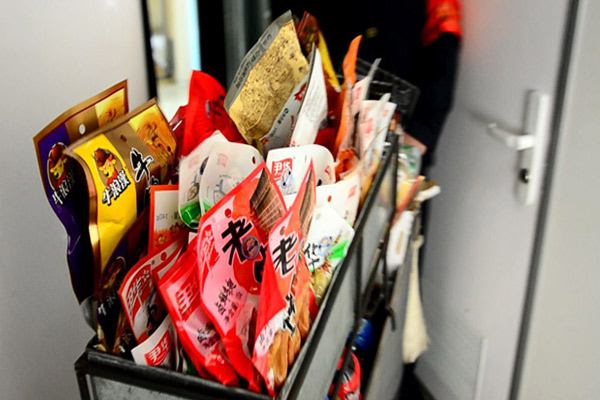 Snack trolley served in the train
Staff on the trains are always polite and friendly, and ready to help. The staff will happily answer all your questions, and point out sights you will not want to miss as the train goes by. However, although many of the staff do speak some English, it may be limited, so a phrase book would be useful. Make sure you always keep your documents on your person throughout the trip, even if you are in the soft sleeper cabins. While crime is not really an issue on the trains - there are police on every train - these are not things you really want to lose or misplace. Bum bags or fanny pouches are good for this.
Taking the train from Xining to Lhasa is the experience of a lifetime, and one that you will want to take again and again. The trip is a heady mix of new sights, sounds, and smells, as well as new people and cultures. Most of our Chinese and Tibetan tourists or business men from Tibet and mainland China also use the train to travel to Lhasa and back, so you will get the chance to see the best of everything.