Train to Tibet
Welcome to Qinghai Tibet Train aka the Lhasa Express official website. Everything you need to know about the new train to Tibet can be found here. Tibet tours and permits can be arranged here as well for we can help you to find Tibet travel partners to join in you so as to get Tibet permits. All information presented here has been update for the 2012 and 2013 train season.
---
Lhasa Express
Have you ever experienced four seasons in one ride? different weather a few miles apart? snow in June?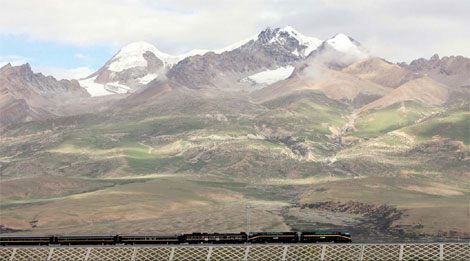 Well now you can aboard one of mankinds greatest technical wonders of the modern world - The China Tibet train journey. The train runs through a sea of mountains, a world of lakes, herd of endangered animals, and encounters with many diverse ethnic groups. As you aboard the Lhasa bound train, with its comfortable beds, fine food, and aromatic coffee and instant noodles, you will gaze out the window and view stunning landscapes unfold like paintings as they race alongside the railway - this is the great Tibet Train journey that you have dreamt about. Everything you need to know about the Qinghai Tibet Railway can be found on this site - tickets, tours, pictures, tips, and much more!
---
About the train
The Qinghai-Tibet Railway stretches from the ancient city of Xining in Qingha Province to Lhasa. This stretch holds claim to being the highest railway ever constructed. It traverses unbelievably harsh terrain and utilized some of the most complex technology available to overcome particularly difficult constructional challenges, a combination of factors virtually never encountered in the history of railroads, either in China, or across the world.


The Tibet Railway was designed to form a strategic channel connecting Tibet, Qinghai with inland China. After its completion, a comprehensive transportation system incorporating a railroad, highway and air passage would thoroughly solve the issue of the inaccessibility of Tibet, providing much broader space for Qinghai and Tibet's economic growth and optimizing their resource potentials.

Admist the dramatic landscape one can find the fertile plains of the Yangtze, Yello and Lantsang Rivers; the Qaidam Basin, one of China's largest; Qaidam's Qarham Lake, Asia's largest salt lake, over which was erected the world's longest salt bridge; the Kunlun Mountains, hailed as "the origin of ten thousand mountains", a prominent pilgrimage site for Buddhists from around the world; the Geladaintong glaciers near the snow covered Dangla Mountain range; the vast bleakness of the Hoh Xil Nature reserve and northern Tibet's Young Tun Basin, a paradise for rare wildlife such as the Tibetan antelope, wild yak and Tibetan wild donkey.

The Qinghair-Tibet Railway boasts a number of wolrd records (see below) has brought about contemporary, innovative construction whose stations, bridges and tunnels form new landscapes along the routes.
---
Golmund to Lhasa -The stations in between the new railway:
There are 45 stations along the 1972km long Qinghai-Tibet railway from Xining to Lhasa and every station has unique scenery. To provide travelers better opportunity to enjoy the stunningly beautiful scenery on that way, nine scenery viewing platforms have been set up at nine stations. These include: Yuzhu Peak Station, Chumaer River. Tuotuo river, Buqiangge, Tanggula Mountain, Lake Namtso, Nagqu, Damshung, Yambajan. The platform is around 500-meter long and 1.25 meters high.
On the platform, visitors can enjoy the views around that area and take photos. The authority has scheduled the trains so that passengers will be able to make use of the viewing platforms during daytime.
Tibet Train Qinghai Railway Schedule:

Lhasa-Beijing: 47 hours 04 minutes; distance 4064km
Lhasa-Chengdu: 45 hours 40 minutes; distance: 3360km
Lhasa-Chongqing: 46 hours 32 minutes; distance: 3654km
Lhasa-Shanghai: 48 hours 58 minutes; distance: 4373km
Lhasa-Guangzhou: 56 hours 10 minutes; distance: 4980km
Train No.

From

To

Dep.

Arr.

KM

T28

Lhasa

Beijing West

13:45

08:06

3753

T27

Beijing West

Lhasa

20:09

16:00

3753

T264/
T265

Guangzhou

Lhasa

12:19

18:30

4980

T263/
T266

Lhasa

Guangzhou

12:05

18:58

4980

T222/
T223

Chongqing

Lhasa

19:06

16:50

3654

T221/
T224

Lhasa

Chongqing

12:45

10:55

3654

T22/
T23

Chengdu

Lhasa

20:59

16:50

3360

T21/
T24

Lhasa

Chengdu

12:45

07:57

3360

T164/
T165

Shanghai

Lhasa

19:28

19:15

4373

T163/
T166

Lhasa

Shanghai

11:25

11:17

4373

K9802

Lhasa

Xining West

08:20

07:26

1960

K9801

Xining West

Lhasa

15:04

14:55

1960

K918

Lhasa

Lanzhou

08:20

10:12

2188

K917

Lanzhou

Lhasa

12:13

14:55

2188
Click here for more details on schedules and fares.
Latest Tibet Train News


Tibet now re-open to tourists August 29, 2011
Tibet has reopened after a month's closure to tourists. The journey of more than 4,000 miles that is now possible again – all the way from Hong Kong to Lhasa.

Hong Kong to Tibet by Train now possible

It takes two trains to get from Hong Kong to Lhasa – to go from China's Special Administrative Region in the south to its Tibetan Autonomous Region in the far west. T98 from Hong Kong to Beijing (1,550 miles/2,475km – in 23 hours and 30 minutes), in order to take the T27 from Beijing to Lhasa (2,540m/4,064km – in 45 hours and eight minutes).

Sichuan-Tibet railway project delayed

Construction on a highly anticipated rail line linking Chengdu in Sichuan province to Lhasa in Tibet will not start this month, according to the Ministry of Railway, contradicting recent media reports.

The proposed railway will span 1,629 km, 650 km of which will be in Sichuan. Trains will travel at a maximum speed of 200 km per hour and will take only eight hours to reach Lhasa, the capital of the Tibet autonomous region, according to Wang Minghui, deputy chief of the Chengdu railway administration. (

published 2009-09-03

)
Online ticket sales
have begun for domestic and overseas tourists, who will enjoy the unique scenery of the Qinghai-Tibet Plateau
.
Shanghai, Guangzhou to open rail links to Tibet next month(
09.18.2006)
BEIJING (XFN-ASIA) - China will expand train services to Tibet when it opens direct services from both Shanghai and Guangzhou to Lhasa next month, state media ...
More Tibet train news...
Photo Journal - In and around Tibet

What to bring to Tibet:

- Camera with plenty of film or Flash/SD memory cards. There are many places around Lhasa where you can burn a CD.
- If you are doing a tour, bring a sleeping bag.
- Oxygen canister (if you are prone to altitude sickness, available in Tibet). They are available in Lhasa as well as all other major cities. Prices tend to go up once you leave Lhasa.
- Altitude sickness medication (if prone to altitude sickness).
- Warm hat, sunscreen, and sunglasses.
- Jacket.
- Good shoes.
The world's highest railway
The Beijing-Lhasa train will run at a speed of 160 km per hour on the plain, but will slow down at 120 km per hour when it reaches the Qinghai-Tibet section. The line includes the Tanggula Pass, at 5,072 m above sea level the world's highest rail track. More than 960 km, or over 80% of the railway, is at an altitude of more than 4,000 m. There are 675 bridges, totaling 159.88 km, and over half the length of the railway is laid on permafrost.
Train T27 from Beijing to Lhasa takes 47 hours 28 minutes, covering 4,064 km (2,500 miles), departs at 21:30 from Beijing West, and arrives in Lhasa at 20:58 on the third day.
It is reported that the useful tips for plateau travel will be printed on the back of the ticket and passengers who want to go to Lhasa should fill in a "health registration card", which should be hand into the trainman when getting onto the train. Besides, no smoking is required on the train.
According to the stipulation of the Ministry of Railways, the Qingzang Railway (Qinghai-Tibet Railway) is not allowed to hold passengers over strength. All the trains to Lhasa require one ticket for one seat/berth. No standing-room-only ticket is on sale.
In addition to Beijing, some other Chinese cities, including Shanghai, Guangzhou and Chengdu, will also launch direct railway passenger transportation to Lhasa as of July 1 2007, Zhang said.
Thank you for visiting the Tibet train website!