Fare and Schedule
Tibet train fares are subject to alteration wherever possible check times locally before traveling. All Tibet trains have air conditioning, pressurized cabins, and oxygen. The Tibet train costs vary depending on the season. The prices listed below are current as of 2017- 2018. However the actual price will vary depending on the season, travel agency, and city. Ticket scalping is common during the high season (summer months and Chinese holidays) where enterprising entrepreneurs purchase tickets in advance and resell them for a premium.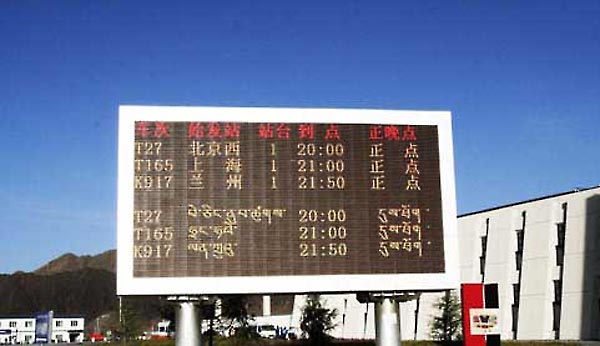 Check the latest 2017-2018 Tibet train schedules with fares.
The new section of the railway, known as "Qinghai-Tibet Railway", begins at the Xining Railway Station and concludes at the Lhasa Railway Station. You can catch a train heading to Xining from most major cities in China. If you cannot obtain a ticket directly to Lhasa from your current city, try purchasing one for Xining as chances are you will be allowed to continue to Lhasa for an additional fee once you arrive in Xining.
Tibet Train Fares 2017-2018
Route
Duration
Hard Seat
Hard Sleeper
Soft Sleeper
Booking
Xining to Lhasa
1,972 m
(21hr,55min)
¥224
¥495
¥781
Booking
Lanzhou to Lhasa
2,188 m
(24hr,44min)
¥240
¥522
¥823
Booking
Xian to Lhasa
2,864 m
(31-32hr)
¥294
¥612
¥970
Booking
Chengdu to Lhasa
3,360 m
(43hr,7min)
¥328
¥668
¥1,062
Booking
Chongqing to Lhasa
3,654 m
(42hr,13min)
¥335
¥680
¥1,079
Booking
Beijing to Lhasa
4,064 m
(40hr,30min)
¥360
¥720
¥1,144
Booking
Shanghai to Lhasa
4,373 m
(47hr,34min)
¥403
¥794
¥1,263
Booking
Guangzhou to Lhasa
4,980 m
(53hr,45min)
¥447
¥865
¥1,468
Booking
Note:
1. The prices above are only the net prices of Tibet train tickets. The market prices of Tibet train ticket are usually subject to change according to your travel date. Please contact us for exact cost of Tibet train tickets on your preferred departure date.
2. Due to the limited tickets supply, it is better to make reservation 3-6 months in advance, especially in peak seasons.
Tibet Train Schedule 2017-2018
Schedule of Trains to Lhasa, Tibet
| Route | Train Number | Dep. Time | Arr. Time | Duration |
| --- | --- | --- | --- | --- |
| Beijing to Lhasa | Z21 | 20:00 | 12:30 | 40hr, 30min |
| Shanghai to Lhasa | Z164 | 20:10 | 19:44 | 47hr, 34min |
| Guangzhou to Lhasa | Z264 | 11:45 | 17:30 | 53hr, 45min |
| Chengdu to Lhasa | Z322 | 14:48 | 09:55 | 43hr, 07min |
| Chongqing to Lhasa | Z223 | 15:42 | 09:55 | 42hr, 13min |
| Xining to Lhasa | Z6801 | 14:05 | 12:00 | 201hr, 55min |
| Lanzhou to Lhasa | Z917 | 11:16 | 12:00 | 24hr, 44min |
Schedule of Trains from Lhasa, Tibet
| Route | Train Number | Dep. Time | Arr. Time | Duration |
| --- | --- | --- | --- | --- |
| Lhasa to Beijing | Z22 | 15:30 | 08:20 | 40hr, 50min |
| Lhasa to Shanghai | Z166 | 11:05 | 11:51 | 48hr, 46min |
| Lhasa to Guangzhou | Z266 | 12:45 | 19:50 | 55hr, 05min |
| Lhasa to Chengdu | Z324 | 18:30 | 14:36 | 44hr, 06min |
| Lhasa to Chongqing | Z224 | 18:30 | 13:41 | 43hr, 11min |
| Lhasa to Xining | Z6802 | 08:50 | 06:43 | 21hr,53min |
| Lhasa to Lanzhou | Z918 | 08:50 | 09:23 | 24hr, 33min |
Train Classes - What the Numbers and Letters Mean
Trains in China begin with a letter and number, eg T98. The letter represents the category of the train. Some trains are faster and more modern and this is reflected in the letter. The number is the train's unique identifier.
Train Class
Type
Details
G or C
Bullet train
The C train is the fastest train in China. and now it's running between Beijing and Tianjin. Maximum speeds up to 350km/h
* Limited luggage space
D
2nd Tier Bullet train or CRH also called "Dongche".
Bullet train with speeds to 250km/h serving the major Chinese cities.
Z
Non stop train
A direct non-stop train with limited stops with speeds between 120- 160km/h.
T
High speed express Train
Speeds up to 140km/h. Almost every train is equipped with soft-sleeper, soft-seat, hard-sleeper and hard-seat. Popular train heading from East to West.
K
Fast Train
Speeds up to 120km/h, general train.
Y
Tourist Train
Train that takes tourist to special sight seeing sites.
The trains to Tibet include three T trains (T22 from Chengdu to Lhasa, T222 from Chongqing to Lhasa and T264 from Guangzhou to Lhasa), and four Z trains (Z21 from Beijing to Lhasa, Z164 from Shanghai to Lhasa, Z6801 from Xining to Lhasa and Z917 from Lanzhou to Lhasa).
How to Choose Tibet Train Ticket Classes
On every Lhasa Express train, there are three classes of tickets for you to choose. In order of price, from the cheapest to the most expensive, they are hard seats, hard sleepers and soft sleepers.
Since it is quite a long journey to Tibet by train from mainland China, it is not suggested to take a hard seat on a train to Tibet. Hard sleeper tickets are easier to obtain as opposed to soft sleeper. However please be advised that the hard sleeper option is not for everyone. The hard sleeper has six bunks with no cabin door in each compartment and you have to be more cognizant about your belongings. The hard sleeper option is great for a true cultural interactive experience, while the soft sleeper option is better for a family or travelers who want oving space and privacy. You can choose depend on your adaptability and your budget.
Where to Purchase Tibet Train Tickets
Train tickets in China need to be purchased in advance, normally at least 5 days. However the system is not perfect and therefore you can still purchase tickets the same day assuming there are seats left. Tickets can be purchased either at your current train station or via a tour agent. You can also reserve tickets online.
Regarding the limited ticket supply and high demand of Tibet trains, which is quite popular with travelers from both home and abroad, it is suggested to reserve your Tibet train tickets online with a reliable travel agency, who will also help you to apply for Tibet travel permit and arrange your Tibet tour.
China Railway Telphone Number:
Beijing West Railway Station: 86-10- 95105105
Chengdu Railway Station: 86- 028- 96006 / 95105105
Lanzhou Railway Station: 86- 0931-95105105
Chongqing Railway Station: 86- 028-96006 / 95105105
Xining Railway Station: 86- 0971-95105105