Tibet Train Soft Sleeper
Soft Sleeper cabins are the first class cabins offering you the most comfortable experience onboard. There are only 2 soft sleeper cars with 64 compartments in total on board each Train to Tibet. In each compartment, there are 4 soft sleeping beds (2 lower berths and 2 upper berths) and a door that can be closed for a private compartment.
The soft berth is 75 centimeters wide and 190 centimeters long. The space between left berths and right berths is about 50 centimeters wide. Each berth has a reading light and an oxygen outlet, which ensure you to have a pleasant journey onboard without any worry about the high altitude sickness.
Where to Put Luggage in My Soft Sleeper Cabin?
To store your luggage onboard, you can put your suitcase (in an average size) down below the lower bunk, and put your pack bags and some other light luggage up above the ledge above the door.
Video of Where to Store Your Luggage in Soft-sleeper Cabin on Tibet Trains
Price of Soft Sleeper Train Ticket
The ticket price of Soft Sleeper cabins is the most expensive one among all ticket classes. In a same cabin, the upper bunk ticket is cheaper than the lower bunk. Just choose your favorite train route for detailed price information.
Note: If you want to have a private soft sleeping compartment, you need to pay for the four tickets (2 upper berths and 2 lower berths) together; even your group has less than 4 people.
Photos of Softer Sleeper Cabins
The following are pictures of the Soft Sleeper cabin on board the Tibet train.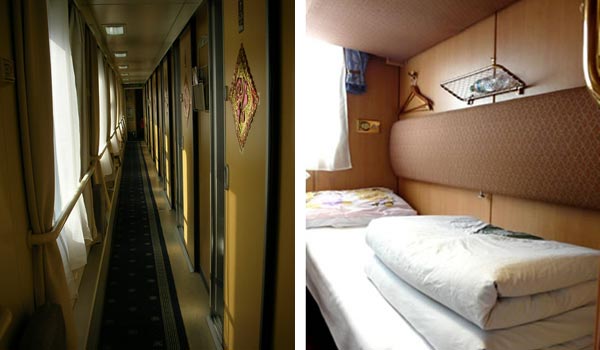 Each cabin has a door with four soft sleeping berths.