Guangzhou to Lhasa
There is only one train in service from Guangzhou to Lhasa, and it runs every day. The 4980 km journey takes over 3 days to complete. We have the most up-to-date information for 2017-2018 at ChinaTibetTrain.com.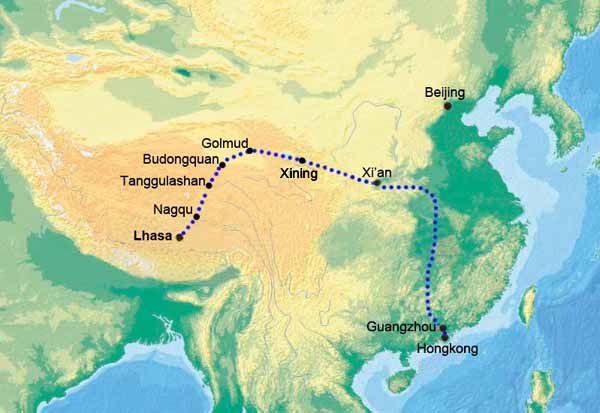 The total duration of this trip is 53 hours 45 minutes, and those who take the train from this destination are usually visiting Hong Kong first.
Guangzhou to Lhasa by Train - No. Z264
Train No.
From
To
Dep. / Arr.
Duration (km)
Stops
Duration
Z264
Guangzhou
Lhasa
11:45 / 17:30
4,980
11
53hr, 45min
Ticket Price
Booking
Hard Seat
Hard Sleeper
Soft Sleeper
Booking
¥447
¥865
¥1,468
Note:
1. The ticket prices of the trains from Lhasa to Guangzhou is the same.
2. The ticket prices above are the net price. In peak season, tourists have to pay more than the net price to buy tickets. Please contact us for the actual price of Guangzhou - Lhasa train tickets on your departure date.
3. A small service fee will be charged for Ticket-Only service. No service charge on booking train tickets if you also book a Tibet tour package with us.
4. Your submitted reservation is not an order but just an inquiry. The reservation need to be confirmed by Chinatibettrain.Com. An advance Tibet train ticket booking is recommended for the limited supply of Tibet train tickets.
Timetable of Guangzhou to Lhasa Train - No.Z264
| Station | Altitutde | Arrival | Departur e | Stop Time | Days | Distance |
| --- | --- | --- | --- | --- | --- | --- |
| Guangzhou | 21 m | -- | 11:45 | -- | Day 1 | -- |
| Chenzhou | 189 m | 15:32 | 15:36 | 4 min | Day 1 | 374 km |
| Changsha | 63 m | 19:10 | 19:17 | 7 min | Day 1 | 707 km |
| Wuchang | 28 m | 22:38 | 23:58 | 20 min | Day 1 | 1,069 km |
| Zhengzhou | 108 m | 03:33 | 03:40 | 7 min | Day 2 | 1,605 km |
| Xian | 385 m | 09:35 | 09:45 | 10 min | Day 2 | 2,116 km |
| Lanzhou | 1,520 m | 16:38 | 16:55 | 17 min | Day 2 | 2,792 km |
| Xining | 2,200 m | 19:31 | 19:51 | 20 min | Day 2 | 3,008 km |
| Golmud | 2,780 m | 02:40 | 03:05 | 25 min | Day 3 | 3,838 km |
| Nagchu | 4,500 m | 12:25 | 12:31 | 6 min | Day 3 | 4,658 km |
| Lhasa | 3,650 m | 17:30 | -- | -- | Day 3 | 3,757 km |
Timetable of Lhasa to Guangzhou Train - No.Z266
| Station | Altitutde | Arrival | Departur e | Stop Time | Days | Distance |
| --- | --- | --- | --- | --- | --- | --- |
| Lhasa | 3,650 m | -- | 12:45 | -- | Day 1 | -- |
| Nagchu | 4,500 m | 16:07 | 16:13 | 6 min | Day 1 | 322 km |
| Golmud | 2,780 m | 02:40 | 03:05 | 25 min | Day 2 | 1,142 km |
| Xining | 2,200 m | 10:20 | 10:40 | 20 min | Day 2 | 1,972 km |
| Lanzhou | 1,520 m | 13:25 | 13:40 | 15 min | Day 2 | 2,188 km |
| Xian | 385 m | 21:49 | 22:03 | 14 min | Day 3 | 3,375 km |
| Zhengzhou | 108 m | 04:01 | 04:07 | 6 min | Day 3 | 3,375 km |
| Wuchang | 28 m | 08:37 | 08:52 | 15 min | Day 3 | 3,911 km |
| Changsha | 63 m | 12:07 | 12:13 | 6 min | Day 3 | 4,273 km |
| Chenzhou | 189 m | 15:42 | 15:46 | 4 min | Day 3 | 4,606 km |
| Guangzhou | 21 m | -- | 19:50 | -- | Day 3 | 4,980 km |