Namtso Lake
Nam tso lake is also known as "heavenly lake" and it is the 2nd largest salt water lake in Tibet with Qinghai Lake taking the number one spot. Namtso lake, however, is the largest lake in all of Tibet and is at an altitude of 4,718m which makes it the highest saltwater lake in the world. The water is cold with a bluish green tint.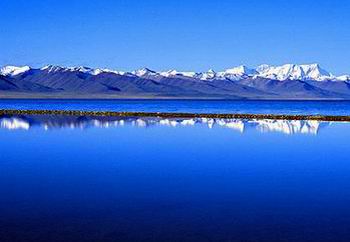 Namtso Lake Legend: Namtso Lake and Nyantsentanglha are a pair of beloved couple, living together and deeply attached to each other. Namtso is dependant on Nyantsentanglha, as the melting of snow on the mountain is the source of Namtso. According to the tradition, if you circle Namtso Lake on foot, you will get great happiness and comfort.

Getting to Lake Namtso:
Namtso Lake is located 200km's northwest of Lhasa. There are no direct buses that will take you there so the ideal way to visit the lake is via an organized tour or hiring a taxi. You can also cycle to Nam tso lake
Park Entrance Fee: 120 Yuan
The trek around nam tso lake is considered the highlight of the visit. To do this you may want to stay overnight at a camping tent (prices vary)
The ideal time to visit the lake is from May to October; during the May and June of the Tibetan Calendar, thousands of Circumanbulators (all are Tibetan Buddhism adherents) pilgrimage around the lake.
The Dangxiong Horse Race and the Namtso International Hiking Meeting are held on the lakeside every year.
To see more pictures, click here
---
Book your Namtso lake tours here
Book your trip with one our finest tour agents in Lhasa, Tibet.