Lhasa Tours
The city of Lhasa, Tibet is now a vibrant multicultural city. The major attractions for a Lhasa City tour is centered along "Beijing East Road" where you will find all the major hotels , shops, outfitters, as well as the famous Potala Palace.
Top 5 things to do in Lhasa
Obviously you cannot see nor do everything while you are in Lhasa. These are the top 5 things to see in Lhasa.
No.1 Visit Potala Palace
The Potala Palace is the massive temple at the heart of Lhasa City. This is where the Dalai Lama once resided. The Potala Palace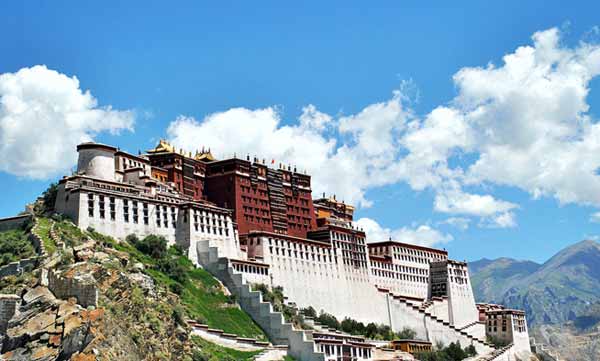 Potala Palace, on the Red Hill of central Lhasa, is the highest ancient palace in the world at 3,767m.
No.2 Visit Jokhang Temple
The Jokhang Temple, lying at about 1,000 meters to the east of the Potala Palace, is a 1,300 year old temple and is t he most revered religious structure in Tibet. The statue of Sakyamuni at age of twelve is one of the highlights of the Jokhang Temple for there are only three statues designed by himself in the world. Pilgrims come from all over Tibet to go on a pilgrimage in Jokhang Temple every day.
Jokhang Temple, the spiritual center of Tibet, is the holiest destination for all Tibetan Buddist pilgrim.
No.3 Stroll along Barkhor Street
Lhasa's Barkhor Street is located in the center of Lhasa, Tibet. The street circles the Jokhang Temple, and has been an essential pilgrim route since the foundation of the temple.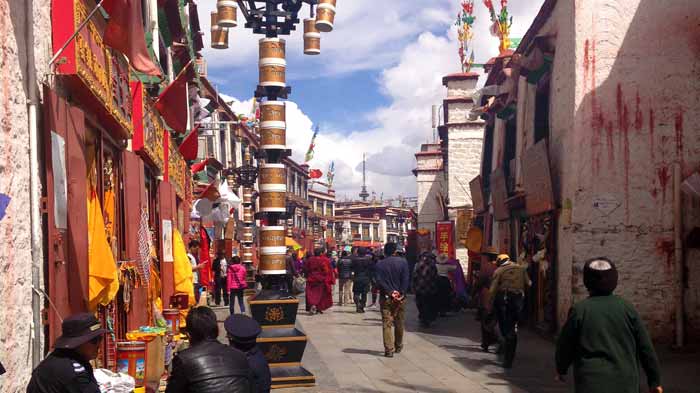 Barkhor Street, the oldest street in Lhasa, is not only a saint road for pilgrims, but also a good shopping street for tourists.
Buddhist pilgrims can be seen throughout the day and night walking, or prostrating themselves clockwise along Barkhor Street spinning their prayer wheels and chanting sutras. There is more to Barkhor Street than just a place for pilgrims to walk. Barkhor Street is also famous for its shopping.
Tip: When walking around Barkhor Street, always walk in a clockwise direction.
No.4 Drepung Monastery
Drepung was the principal seat of the Great Fifth Dalai Lama and it retained the premier place amongst the four great Gelugpa monasteries. Drepung was known for the high standards of its academic study.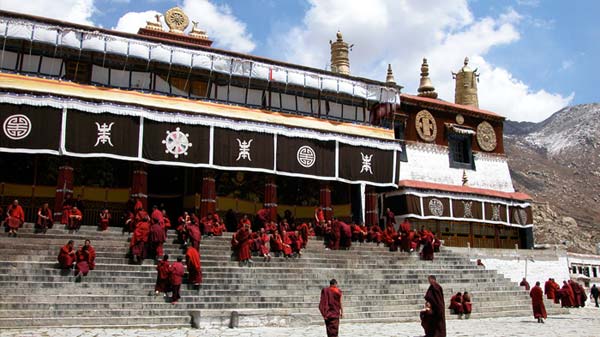 Drepung Monastery is one of the Three Great Monasteries in Lhasa.
No.5 Sera Monastery
Along with the Drepung Monastery and the Ganden Monastery, Sera Monastery is one of the three famous monasteries in Lhasa. Although badly damaged following the invasion of Tibet and the Cultural Revolution, it is still standing and has been largely repaired. In 2012, it housed 550 Buddhist monks. And the debating of Buddhist doctrines is the highlight of this monastery, which can be seen from 3 pm to 5 pm at the yard of this monastery.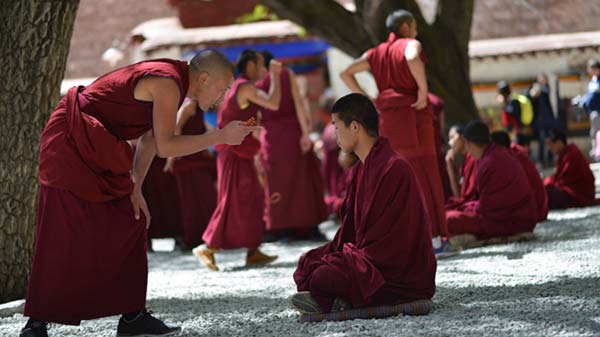 An early arrival is recommended for a clear witness of the unique Monk Debating.
Recommended Tibet Train Tour including Lhasa city sightseeing:
We offer you various Tibet tours including the most classic city trip in Lhasa. Train tickets to Lhasa, Tibet are included, you can also tailor your own Tibet tour with us