Golmud to Lhasa
Golmud is a city that lies along the Qinghai-Tibet Railway, a 1956 km railroad that starts from Xining and ends at Lhasa. The Golmud-Lhasa railway section is 1,142 km.
There is no train to Lhasa starting from Golmud therefore making it difficult to catch the train from the Golmud Railway station. However there are many trains heading to Lhasa that make a stop at Golmud originating from other cities. The sleeper classes are always almost booked solid, however you have a good chance of getting hard seat tickets and standing room tickets if anthing. If you can only obtain standing room tickets, also known as non-reserve, you may sit in the dining cart for the entire trip to Lhasa.
Please Note: Since it is difficult to buy train tickets for Tibet in peak season, it is better to book Tibet train tickets in advance.
The Golmud to Lhasa railway stretch is the most scenic out of any other stretch. Expect to see wild landscapes, yak, antelopes, and Tibetan trekkers out through the window.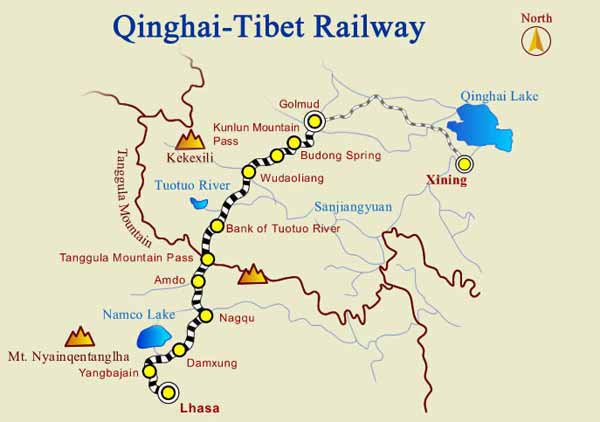 The above map shows you the train route to Lhasa from Golmud.
Ticket Price of Trains from Golmnud to Lhasa
| Routes | Hard Seat | Hard Sleeper | Soft Sleeper |
| --- | --- | --- | --- |
| Golmud to Lhasa | ¥141.5 | ¥358.5 | ¥564.5 |
Note:
1. The prices above are only the net prices of Tibet train tickets. The market prices of Tibet train ticket are usually subject to change according to your travel date. Please contact us for exact cost of Tibet train tickets on your preferred departure date.
2. Due to the limited tickets supply, it is better to make reservation 3-6 months in advance, especially in peak seasons.
Mainland China Tibet trains that make a stop at Golmud
Train Number
Start City
Stop Over
End City
Frequecy
Duration
Z917
Lanzhou
Golmud
(21:23)
Lhasa
(12:00)
Every Other Day
13hr,50min
Z6801
Xining
Golmud
(22:01)
Lhasa
(11:39)
Every Other Day
13hr,13min
Z21
Beijing
Golmud
(22:40)
Lhasa
(12:30)
Daily
13hr,50min
Z323
Chengdu
Golmud
(19:54)
Lhasa
(09:55)
Every Other Day
15hr,00min
Z223
Chongqing
Golmud
(19:54)
Lhasa
(09:55)
Every Other Day
15hr,00min
Z265
Guangzhou
Golmud
(03:05)
Lhasa
(17:30)
Daily
14hr,25min
Z165
Shanghai
Golmud
(04:44)
Lhasa
(19:44)
Daily
15hr,00min