Tibet Travel Permit
Contrary to popular belief, a tangible Tibet Travel Permit aka Tibet Tourism Bureau (T.T.B.) permit does exist and there are no plans of eliminating this permit in the near future. A permit is required to enter Tibet. The TTB costs vary depending on your departure city, and there is no expiration date for the permit. You do not need a permit to leave Tibet, however you will need an additional transit permit to enter certain cities within Tibet as well as Mt. Everest Base camp (60 Yuan per person, 405 Yuan per vehicle), which can be easily arranged by your tour operator. You do need a China Visa as well as a passport that is valid for at least 6 months before applying for the TTB.

Chinatibettrain is cooperating with Tibet Travel Org CITS, the top local tour operator, to help travelers obtain Tibet travel permit. The agency also offers EXTRA VALUE tour packages.
This is how the Tibet Travel Permit looks like. It consists of 2 pages.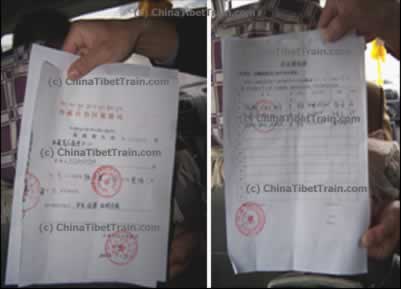 Everyone can get a Tibet permit through a travel agency except diplomats, journalists, and government officials who should travel to Tibet under the arrangement by the Foreign Affairs Office of Tibet Government. Tibet Travel Org is specializing in organizing Tibet tours for foreigners, Tibet train tour in particular, and can help you to obtain Tibet entry permit and other travel permits.
What you need before you go:
1. Scanned copy of your Passport with your photo, date of issue, passport number. Make sure your passport is valid for at least the next 6 months.;
2. Scanned copy of your China Tourist Visa;
3. A tentative itinerary, that is, places where you will be visiting and staying.
How to get the Tibet permit
There are two ways leading to Tibet, one is from other parts of China, the other is form Nepal.
If you are planning to enter Tibet from other places of China, you can claim for it from local offices of your planned previous city to Tibet, e.g. Chengdu if by air, Golmud if by Qinghai-Tibet Highway. It is a must document when you are boarding a flight to Tibet.
If you are planning to enter Tibet from Nepal, you can obtain the fax copy of this permit from the Chinese Embassy in Katmandu.
Permits are arranged by tibet tour agencies only. It normally takes 1-10 business days, depending on how you plan on entering Tibet. 1 Day for flying into Tibet and up to 10 days if you plan on entering Tibet by land via a Land cruiser or by train. You just need to show your passport (or fax in a copy of your passport main page) to begin the permit issuing process. You can apply for the permit as an individual or as a group.
---
Tibet Travel Document Checklist
The four travel documents you need as a foreigner before you can enter Tibet are:
1. The Chinese Visa. You can apply for this at a Chinese Embassy in your country.
2. The Tibet Tourism Bureau Permit (TTB). You cannot enter Tibet without this permit.
3. The Alien Travel Permit (PSB). This permit is required to enter restricted areas in Tibet (see below for more details).
4. The Military Permit. This permit is required if you are travelling to military sensitive areas within Tibet.
---
Restricted Areas in Tibet
The following are restriced areas within Tibet which require permits:Tsedang, Shigatse, Gyangtse, Ngari Region, Nyingchi Region, and Chamdo Region
---
Tibet Permit Fees
Sample Costs of just the TTB: ($1USD = 7.75YUAN)
By Air:
Beijing: 400Yuan
Xian: 500 Yuan
Chengdu: 700Yuan
Zhongdian: 1040 Yuan
By Bus/Landcruiser:
Zhongdian Landcruiser: 1350 Yuan
Chengdu Landcruiser: 1200 Yuan
Golmund: 1100 Yuan
By Train:
Beijing to Lhasa: 700 Yuan
Golmund to Lhasa: 400 Yuan
Xian to Lhasa: 600 Yuan
Guangzhou to Lhasa: 600 Yuan
Shanghai to Lhasa: 700 Yuan
Special tourist train: 500 Yuan
The above prices are just for your reference as they might be adjusted according to the law of supply and demand.
---
PSB Permit - Alien's Travel Permit
If you want to go further to the "unopened" areas, you need an Alien's travel permit issued by PSB of Tibet. It is called "Alien's Travel Permit" or "PSB permit". This can be arranged by any tour agency in Tibet.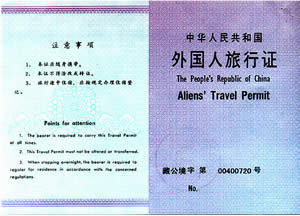 ---
Military Permit
Military Permit is required if you are planning to travel to Ngari, Nyingchi, and Nagqu which are regard as the military sensitive areas in Tibet. It is issued by the Military office in Lhasa and we will need you to provide your passport, Tibet permit to apply for it. It normally takes 1-2 week days and the cost is 100 yuan/person.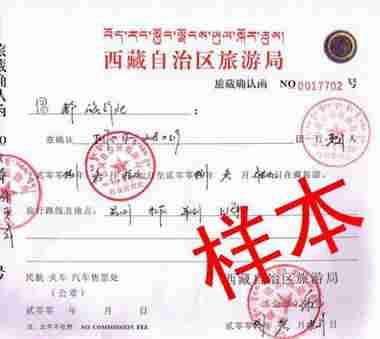 Permit Issuing offices:
Official Email: info@chinatibettrain.com
Chengdu
Tel: 0086-28-85552138 Fax:0086-28-85544588
Mail: inquiry@tibettravel.org

Address: Room 505, Lingsan Business Building, No. 22 of 3rd Segment Renmin Nanlu,Chengdu,China
Shanghai Branch Office Tel: 0086-21-6228845 Fax: 0086-21-63231016
Ge'er Mu Branch Office Tel: 0086-979-8483532 Fax: 0086-979-8483532
Xi'an Branch Office Tel: 0086-29-87815987 Fax: 0086-29-87815987
Yunnan Xianggelila Branch Office Tel: 0086-887-8229028 Fax: 0086-887-8227892
Xining Branch Office Tel: 0086-971-8459840 Fax: 0086-971-8459840
Zhangmu Branch Office Tel: 0086-892-8743733 Fax: 0086-892-891