Home
>
Tangula Luxury Train To Tibet
Tangula Luxury Train To Tibet
Update as of 2015: The much anticipated Tangula Luxury Train is still not in service.
Tangula Railtours will run regular train journeys from Beijing to Lhasa, traversing the world's highest railway through the spectacular scenery of Tibet. Another train will go between Beijing and Lijiang in Yunnan province, delivering the fantastic views of Guangxi and Yunnan Provinces of South China.

Inside the Tanggula Luxury Train
Each Tangula luxury train accommodates a maximum of only 96 guests in 48 spacious suites. The suites feature a smart and contemporary design, offering en-suite bathrooms and all the technological conveniences of home including a full entertainment system. The trains also offer ample space and convenience for lounging, with two dining cars and a scenic car located at the center of the train.
Train Composition
Each Tangula Luxury Train has 15 passenger cars including 12 accommodation cars – 6 on each side of two dining cars and a scenic lounge car. To maintain a level of exclusivity, a suite car has just four private suites – two passengers per suite. Each of our three trains can carry up to 96 passengers.
Oxygen Enrichment System
Tangula's trains incorporate an onboard oxygen enrichment system allowing passengers to travel in comfort at altitudes of up to 5,072 meters. The train cars are not pressurized like aircraft cabins for high-altitude flight; they have a specially developed system that regulates air content to maintain consistent oxygen levels inside the train. The system monitors oxygen and carbon dioxide levels in the passenger areas and automatically modulates oxygen-enriched airflow into the car as the altitude changes. Passengers who experience difficulty at high altitudes can also access oxygen directly in their private suites and at various points in the other train cars. This air supply system incorporates redundancy to ensure continuous supply.
Environmental Sensitivity
We promote responsible and sustainable tourism practices. Tangula Luxury Trains maintain a zero discharge policy - all waste will be collected and disposed of according to stringent regulations. Tangula cooperates with the communities we visit and respects their environments and customs. We promote local art and products to return profits back to the communities and we believe an important part of Tangula journeys is educating our guests about the regional cultures and environments, so that they value the local heritage and therefore contribute to its protection.
Security
Safety and security is our priority. Each train is secured with power-operated and locked external doors and has electronically controlled personal access to each suite. An onboard security officer is responsible for the overall safety and security of guests and employees, both at stations and in transit.
Speed
Tangula trains reach a top speed of 160 kph (100 mph) with a reduced maximum speed of 100 kph (62 mph) over the permafrost sections of the plateau. In many sections of the journey, Tangula will intentionally reduce the speed of the train so that our guests can enjoy the breathtaking scenery.
Manufacturing
The train cars are manufactured in China by Bombardier Sifang Power Transportation Ltd. (BSP) and operated by Tangula Railtours Ltd., a joint venture between the Tangula Group and the Qinghai-Tibet Railway Company.
Luggage and Space
Although Tangula's suites are roomy and comfortable, trains in general offer limited storage. Each suite has enough storage space for two suitcases each less than 33 x 70 x 50 cm (13 x 28 x 20 inches), therefore guests are advised to make arrangements for excess luggage which cannot be stored within the suite. Tangula can assist guests with arrangements for their luggage to be stored in their booked pre-boarding hotel or to be forwarded to them ready for their onward journey after disembarkation from the train.
Dress Code
Throughout the day guests are advised to wear casual, comfortable clothing and shoes appropriate for walking during off-train excursions. Check with your travel professional for special items you might want to pack for your destination and the time of year you are traveling.
Dining room attire is casual during the day; evening attire is smart casual, such as casual dresses or pants for ladies, and sport shirts and slacks for gentlemen. Ties and jackets are not required. Casual daytime attire is not considered acceptable after 6:00pm. Footwear and shirts are required in all public areas of the train.
There are bathrobes and slippers in each private suite for your use during the journey, however, they are not to be worn in public areas. No laundry service is offered on the trains.
Child Policy
Because of the nature of the Tangula Luxury Trains journey and experience all passengers must be 16 years of age or older.
Smoking Policy
Tangula has a strict no smoking policy. This ensures a comfortable living atmosphere at all times for everyone on board the train as they use the suites, walk along the train, or sit with others in the Scenic and Dining areas.
Tangula Train Routes:
Northern Route: Beijing to Lhasa / Lhasa to Beijing Five-day/four-night journeys depart from Beijing for Lhasa, with four-day/three-night journeys departing from Lhasa for Beijing. Traverse the vast grasslands and deserts that were once part of the old Silk Road, enjoy the spectacular Tibetan plateau, pass through a myriad of snow-capped mountain ranges and glide along the rim of the pristine, mineral-rich Cuona and Qinghai Lakes.
Suites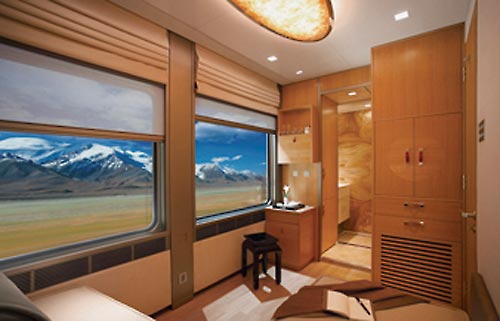 The suite on Tanggula Luxury Train
Tangula's suites offer one full-sized or two twin beds with fine linens, en suite bathrooms, showers with custom bath products and all the technological conveniences of home including a full entertainment system. During the day each suite is converted into a tranquil lounging area where you can recline on a settee and enjoy the passing landscapes accompanied by a glass of wine and soothing music. At night, special lighting envelops you in an intimate setting ideal for reading, video watching, star-gazing or just a peaceful sleep.
Suite Details:
One full size or two twin beds
En suite bathroom with shower
Luxury linens
Custom bath products
Flat-screen television
Entertainment system and multimedia docking device
Wi-Fi internet*
Individual temperature control
Electronic door lock
Wardrobe
Drawers
Writing desk
Complimentary service bar
Electronic safe
Bathrobe & slippers
Hair dryer
220 V international power sockets
USB power sockets
Dining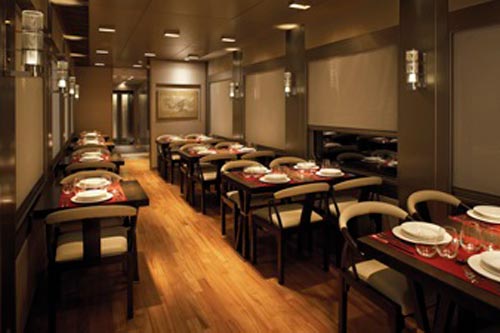 The Dining Car on Tanggula Luxury Train
Guests onboard Tangula Luxury Trains can expect exquisitely prepared cuisine, using the finest ingredients, from one of Asia's most experienced chefs. Fresh and original Western and Asian cuisines will be served, accompanied by an excellent selection of wines, Champagne, spirits and soft drinks, satisfying discerning palettes from around the world. Meals as well as most beverages are complimentary throughout your entire journey.
Sample Dinner Menu
A five-course dinner consists of an appetizer, soup, a selection of two main courses, cheese and dessert. Timbale of lobster, avocado, potato and quail egg on wasabi foam. Tomato soup with coriander and caviar. Crisp mandarin fish in filo pastry with "Barolo" reduction or dry aged prime fillet of beef over horseradish flavored mash of yams, soy glazed garlic and green asparagus. Farmhouse cheese selection with port. Imperial milk pudding with persimmon sherbet, topped with cinnamon.
After Dinner Snacks
During the later part of the evening a selection of the following dishes might be served in the dining and scenic cars or private suites.
- Selection of canapés or warm tartlets
- Smoked or marinated salmon with brioche
- Cured ham or Stilton cheese
Bar
Bar service is available in the dining and scenic cars throughout the day with a selection of local and international beers, wine, cocktails, cognacs, whiskies, digestives, port and sherry.
Room Service
A small dining menu, consisting of continental breakfast, cold canapés such as smoked salmon, terrines and pâtés and beverages, is available en suite. Space restrictions limit us to providing this simplified offering, but as always, we will try our best to accommodate your requests.
En Suite Service Bar
All of our private suites feature a complimentary service bar consisting of non-alcoholic beverages, beers and a selection of snacks.
Tangula Train Costs
Lhasa - Beijing
Route
September - October 2008
March - October 2009
November 2008 - February 2009
Beijing - Lhasa
4-night journey
US$5,500
US$4,400
Single Supplement
US$4,125
US$3,300
Lhasa - Beijing
3-night journey
US$4,125
US$3,300
Single Supplement
US$3,095
US$2,476
Note:
The rates are quoted as per person, on a double occupancy basis, and subject to change without notice and are contacted in USD.
Include: Off train excursions, meals, beverages, wines and spirits, and service charge.
Exclude: Airfares, insurance, medical expense, taxes, extras, interpreters, visa fees, permit fees, wellness services, gifts/souvenirs, premium wines and premium spirits, transfer to the check-in facility, transfer from the train on arrival to the final destination, optional/additional tours pre and post the train journey, internet or other communication charges.
Itinerary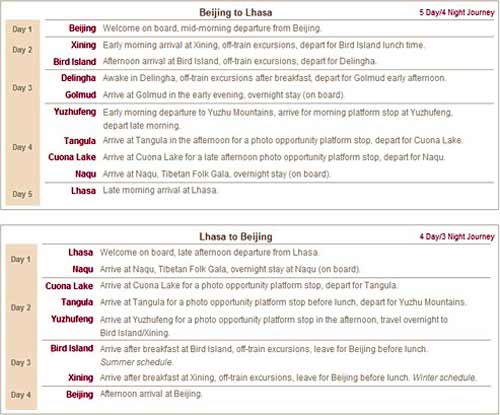 Tangula Luxury Train takes 5 dyas from Beijing to Lhasa and 4 days from Lhasa back to Beijing.