Lhasa Railway Station
At an altitude of 3,641 meters, Lhasa Railway Station is the terminal station of Qinghai-Tibet Railway. Located in the north suburb of Lhasa city, the Lhasa train station was designed as the traditional Tibetan Palace, with 4 waiting rooms, which can be divided into the ordinary waiting rooms, soft seat waiting rooms, VIP waiting rooms and Tibetan style VIP waiting rooms.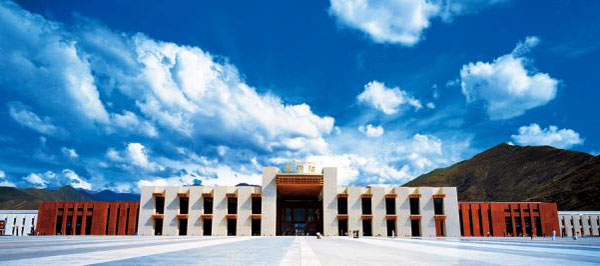 Like Potala Palace, the Lhasa Railway Station uses the traditional red and white color.
Trains from Lhasa Railway Station
There are scheduled trains from Lhasa to Beijing, Xining, Chengdu, Shanghai and other cities which offer trains to Tibet. The following is the latest Tibet train schedule from Lhasa.
Route
(Train Number)
Duration
Hard Seat
Hard Sleeper
Soft Sleeper
Details
Lhasa to Xining
(Z6802,T224,Z166,Z266,Z22,Z9816,Z918,T24)
1,972 m
(20-22hr)
¥224
(US$35)
¥495
(US$78)
¥781
(US$123)
Details
Lhasa to Lanzhou
(Z918,T24,Z166,Z266,Z22,T224)
2,188 m
(23-25hr)
¥240
(US$38)
¥522
(US$82)
¥823
(US$129)
Details
Lhasa to Xian
(T224,Z166,Z266)
2,864 m
(33-35hr)
¥294
(US$46)
¥612
(US$96)
¥970
(US$152)
Details
Lhasa to Chengdu
(T24)
3,360 m
(44hr,31min)
¥328
(US$52)
¥668
(US$105)
¥1,062
(US$166)
Details
Lhasa to Chongqing
(T224)
3,654 m
(44hr,28min)
¥352
(US$55)
¥709
(US$111)
¥1,123
(US$176)
Details
Lhasa to Beijing
(Z22)
4,064 m
(40hr,50min)
¥360
(US$57)
¥720
(US$113)
¥1,144
(US$179)
Details
Lhasa to Shanghai
(Z166)
4,373 m
(47hr,18min)
¥403
(US$64)
¥794
(US$125)
¥1,263
(US$198)
Details
Lhasa to Guangzhou
(Z266)
4,980 m
(54:16)
¥447
(US$70)
¥865
(US$136)
¥1,468
(US$230)
Details
Note:
1. US$1 = ¥6.39(as of 2015)
2. Unreserved seats are available. This means you are not guaranteed a seat, but if one does become available, you may take it, otherwise you will have to stand in the aisles. Prices are usually the same as the hard seat price.
3. Prices above do not include the Tibet Travel Permit.
4. Beijing-Lhasa is 4,064 km, of which 1,110 km are over the newly-built Qinghai-Tibet railway.