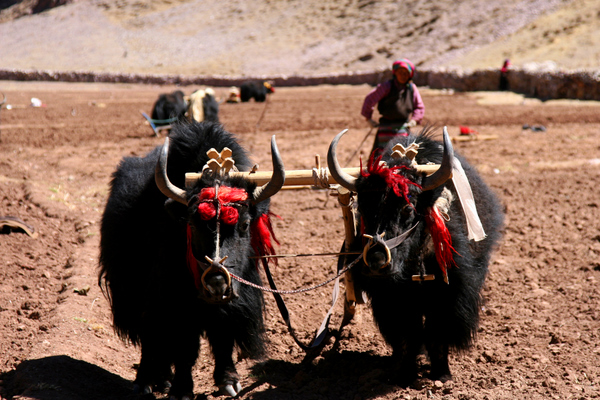 Jan. 15 of the Tibetan calendar, which falls on Mar. 16, 2014, is the "starting ploughing festival". The production modes are advanced with the times with traditions and custom of Tibetan styled farming culture inherited.
In the early morning of the day, villagers wearing their holiday costumes and best jewelries of Chuphu Village, Chushur County in Lhasa, gathered in the most fertile farmland of the village to start the year's ploughing,.
On 10:45 of the day, a sacred white stone considered as the "embodiment of dragon's daughter" was placed in the farmland as part of the sacrificial ritual. Zanba (roasted highland barley flour) and highland barley wine were offered to the stone, with aromatic plants burnt and sacred songs being sung. Tibetan farmers hoped the holy stone could protect crops from hailstones, worms and birds, and bring good weather and harvest in the year.