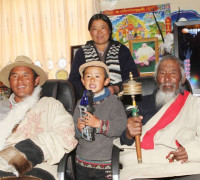 Tsering, 49, is a villager in Yangbajain Township of Lhasa, capital of Tibet.
When Yangbajain railway was constructed in 2004 as part of Qinghai-Tibet Railway, Tsering bought two tip lorries and opened a quarry, earning 200,000 yuan that year.
After having the first bucket of gold, Tsering opened a brickyard and employed more than 20 villagers.
Now, Tsering and his families live a comfortable life in his Tibetan-styled house of 386 square meters with all modern household appliances.